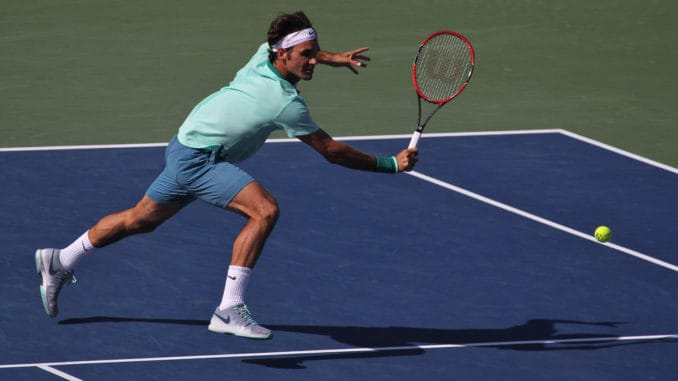 In 2009, when he was about to turn 28, Roger Federer beat American Andy Roddick in a gripping five-set marathon to win his sixth Wimbledon title, and more importantly overtake Pete Sampras's 14 Grand Slam title record to capture number 15.
It was also a back-to-back French Open and Wimbledon win for the Swiss maestro.
There was a huge sigh of relief for Federer fans, given some very one-sided French Open final losses to Rafael Nadal, and then also a Wimbledon final (2008) and Australian Open final (2009) loss to the Spaniard.
But, soon after came another huge disappointment, a 2009 US Open final loss after being up 2 sets to 1, to young Argentine Juan Martin del Potro.
As the decade drew to a close, one had begun to wonder (louder and louder) if the career of perhaps the greatest male tennis player was coming to a close too.
As time went by, his arch-rival category included not only Nadal, but also Serbian Novak Djokovic. Two US Open semi-final losses against Novak Djokovic in 2010 and 2011, from commanding positions and up match-point was unheard of and the writing really was on the wall.
The Swiss was approaching 30 and the field was getting more competitive and the game more physical, how could he possibly keep up?
2011 is the first year since 2002 that does not see Federer winning a single Grand Slam, and tennis is all about Nadal and Djokovic and not "Aging Federer" anymore.
However, 2012 sees a 'surprise' sixth Wimbledon win beating Andy Murray, which is then reversed in the Olympic finals soon thereafter. Tennis fans (more so, Federer fans) are glad for slam number 17 as that was surely a last hoorah.
2013 becomes a shocking year of a second round Wimbledon loss to world number 116 Sergiy Stakhovsky and a Labor day Monday loss at the US Open to Tommy Robredo. Time is 'surely up'.
Then, 2014 sees a 'surprising' name in the Wimbledon final against Novak Djokovic – Roger Federer (!) – and we are in five-set tussle. Djokovic just about wins it.
The same two names make the Wimbledon, US Open and ATP Tour Finals final – unfortunately with the same outcome.
But, there's also been a French Open loss to Ernest Gulbis, an Australian Open loss to Andreas Seppi and although he is still world number two, he is 34 years old now and no major titles in three years, so why not just retire?
No point being Federer and not being world number one and winning every tournament you play, is there?
2016 sees another Australian Open semi-final loss to Djokovic, a freak knee injury in February while preparing a bath for his twin girls, a couple of tournament withdrawals, and a Wimbledon semi-final loss to Milos Raonic.
As he slips and lies flat on the Wimbledon grass against Raonic, it's all very clear and evident – "The King of Grass Had Been Brought Down".
Federer withdraws for the rest of the year with his knee injury as he turned 35, and we think we are not going to see him again. We are wrong. Again.
In 2017, Federer returns to the Australian Open seeded 17th and Federer fans hope he can make it to week two.
One of his best slam performances results in an 18th major victory with some grueling five set wins, none more than a final win against arch-rival Rafael Nadal. We are happy to see #18 and title #89 as slam #19 and title #90 seem unlikely.
What follows is truly unbelievable. Almost shocking.
A Sunshine Masters win at Indian Wells and Miami, a Halle 500 win, another Wimbledon victory, a Shanghai Masters, and another Basel 500 win. Seven titles including two Grand Slams, three Masters 1000 and two ATP 500s underlines a truly phenomenal record for a 36-year old.
It's the perfect swansong and there was no matching that and coming back in 2018 is not required.
But he comes back.
2018 sees another Australian Open victory, a return to world number 1 twice at age 36, another two ATP 500 wins and we are on 99 titles.
Unfortunately, there were some disappointing and atypical losses; Indian Wells finals to Juan Martin del Potro from two championship points, a five-set loss to Kevin Anderson in the Wimbledon quarter finals from match point in the third set, and a lackluster performance against John Millman in the US Open fourth round.
A semi-final loss at the ATP Tour finals to Alexander Zverev and ending the year at world number three, and we are now sure that at age 37, 2019 is the swansong year.
Even the Laver Cup is in Geneva in 2019, so the farewell it is. He has even lost the ability to close out when ahead, evidenced by many instances of winning the first set and a tussle following thereafter.
Federer is unable to defend his Australian Open title in 2019 after a fourth round loss to rising Greek sensation Stefanos Tsitsipas and we expect him to say goodbye to Melbourne.
100 titles will probably never happen.
The Dubai Open sees some early struggles, but convincing wins against Next Gen Borna Coric and Stefanos Tsitsipas in the semi-finals and finals gets title number 100.
He even confirms a return to Dubai in 2020.
However, all Federer fans and tennis fans are sure that matching the 109 title count of Jimmy Connors, winning a 21st Grand Slam and another year on the tour is unfathomable.
We all know that Djokovic will definitely overtake the Federer Slam count as of course sport is so predictable, despite numerous instances of being proved wrong over and over again.
Less than a decade has been spent on the Federer dominance on the sport, but more than a decade has been spent on the Federer retirement discussion.
It is undeniable that the 2004-2007 years did not happen again and will never happen again. It is also true that the Nadal and Djokovic rivalry truly tested his greatness and at some level they are as good if not better.
However, if there was no Roger Federer, there would probably be no Rafael Nadal or Novak Djokovic. Nadal would probably have been the greatest clay courter ever and the best Spaniard to have played the game.
It is debatable if he would have pushed himself the way he has, through all the injuries he has had to win slams on all surfaces.
If neither Federer nor Nadal existed, perhaps there would not have been a Novak 2011, a Novak 2015, and certainly not a resurgent Novak 2018 continuing into current day Novak.
Additionally, if Nadal and Djokovic did not exist, we would not have had the Federer retirement discussion for a decade because to a large extent they are what has pushed him to continue and adapt and still keep going.
At 37-38 years of age, there is probably not a lot more of Roger Federer time on the ATP tour.
But, we have witnessed and continue to witness an athlete that stands as one of the greatest in any sport of all time.
The fitness, longevity and desire to stay at the top for almost two decades now is remarkable. Making a comeback at age 35 and winning 12 titles since including Majors, and having a 5-0 record since against his greatest rival and still being among the top three players on a very difficult circuit is beyond phenomenal.
He probably starts favorite against all opponents even today except Djokovic, and maybe Nadal on clay only.
Plenty of time has been spent speculating and more time will be spent doing the same, on the Federer retirement. Roger Federer is a phenomenon like no other, that is best cherished by one and by all. No one probably knows the best way to manage his schedule or call time than he himself. The rest of us all are mere bystanders.
Hence, enjoy the phenomenon called Federer. Don't Think, Don't Wonder, Don't Stress, Don't Obsess.