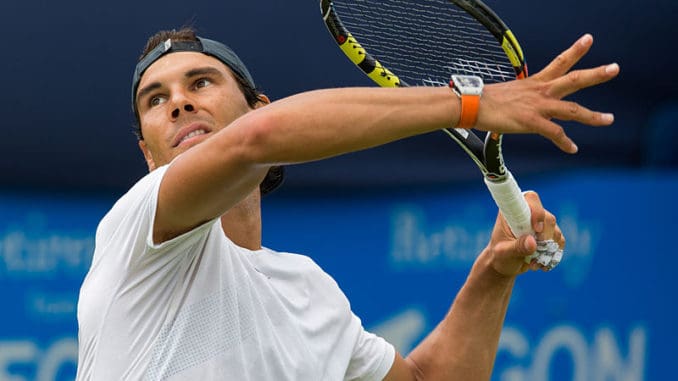 Dusan Lajovic's wild return sailed over the tramline, and cheers resonated across the Monte Carlo Country Club in appreciation of a 31-year-old Italian who had capped off a dream week with a maiden Masters 1000 title. Pulling his T-shirt over his head, Fabio Fognini reveled in the moment that had eluded him for 15 years as a professional player.
Watch the Barcelona Open Live Streaming here. Also get the latest Barcelona Open tips & predictions here.
Sunday's win was the biggest of Fognini's nine ATP singles titles, and it tasted even sweeter as he became the first player from his country to win a Masters 1000 event.
Heading into the tournament with just four victories in 12 matches this year, not many gave Fognini a chance to go past the Round of 16, but the 13th seed Italian had other ideas.
He kick-started the tournament with a brave come-from-behind three-set win over Russian Andriy Rublev, got lucky with a walkover against Giles Simon in the next round, followed it up with a rout of third seed Alexander Zverev before scripting another remarkable comeback win in the quarters over Borna Coric.
Then Came the Ripper…
But none of those wins would come even close to the one he pulled off in the semifinal against 11-time Monte Carlo champion and undoubtedly the undisputed king of clay, Rafael Nadal, snapping the Spaniard's 18-match unbeaten streak at the venue.
Upsets are part of sports, but the manner in which Fognini decimated Nadal became the biggest talking point of the tournament, raising questions about Nadal's fitness and his preparedness for the clay season.
Questions if the loss is just an aberration or have players figured out how to conquer Nadal on a surface that he has made his very own will be answered over the next month leading up to the French Open, but the upset meant the bizarre season continued to baffle with its unpredictability.
Everyone's Struggling?
22 of 23 ATP titles have been won by different players. The WTA has had a similar feel with all of 18 titles being won by different players. The only player to have accomplished the feat twice remains Roger Federer.
One after the other, the tournaments have seen major upsets that made a mockery of pre-tournament predictions and witnessed the rise of a new crop of champions.
World No. 1 Novak Djokovic has not been in his element since winning the Australian Open, and he seems to have carried the Hard Court form to clay, as he fell to Daniil Medvedev in three sets in the quarters at Monte Carlo Masters.
Alexander Zverev, ranked three, hasn't got going either, making just one final in Mexico (an ATP 500 event), which he lost to the unseeded Nick Kyrgios. The season has not been the most ideal for Marin Cilic either.
The Croat, who finished at No. 7 in the 2018 year-end rankings, has struggled for form and the clay season will make it only difficult for him to regain his touch as he hasn't shown much of a fascination for dirt throughout his career, notwithstanding his quarterfinal runs at Roland Garros in 2017 and 2018.
With big names blowing hot and cold, the likes of Dominc Thiems and Fogninis have seized the opportunity to bask in Masters glory. And there have been quite a few young or unexpected performers who have made an impression with inspiring performances.
The Surprising Names
One name that comes to mind immediately is Lajovic, a clay specialist, who may have been a tad lucky not to have faced Djokovic in semis at Monte Carlo, but the way the 28-year-old stormed into the final without dropping a set through the week makes him a player to watch out for at this year's clay season.
The Serb showed glimpses of his ability in the final as well but a few costly errors and Fognini's dominating game ended his title hopes.
For Fognini to remain calm after what transpired against Nadal on Saturday and then to produce another gem in the final, despite being hampered by hamstring pain during the second set speaks volumes about his commitment and focus.
Does this make him a favorite on the surface this year?
While the pundits might be interested in him, Fognini himself, according to reports on ATP's website, has downplayed the suggestion saying he is not looking too far ahead and Nadal remains the favorite on this surface.
Does Nadal Still Remain a Favourite?
But the King of Clay's most recent match has raised questions about him having the same effect on clay this season. Many might say the world is reading too much into an odd defeat for Rafa, but by his own estimates the semifinal performance was one of his "worst" ones on clay in 14 years.
Nadal, who last lost a set at Monte Carlo in 2017, was almost on verge of being bageled in the second set against Fognini, before he saved three match points at 0-5, 0-40 to prevent a humiliation and eventually lose 4-6, 2-6. The signs were there to be seen against Gaudio Pella in the quarterfinal when he lost three service games early in the first before staging a comeback and winning the match 7-6, 6-3.
As he sets sights on a 12th title in Barcelona this week, it would be interesting to see if his loss to Fognini was a result of the knee injury that forced him to withdraw from the Indian Wells semis against Federer or was it some technical flaw that saw his otherwise reliable forehand betray him in one of his favorite events.
Nadal Needs a Good Barcelona Showing
An atypical showing in Barcelona will lead to more questions about Nadal's fitness, form and dominance on clay, and may even open a little window of opportunity for someone else to step into the breach at the year's second Grand Slam. And with Federer making a return to his least favored surface after a two year hiatus, Nadal could well be in for a showdown with a familiar foe in Madrid and Paris.
Although not many see the 20-time major winner extending his streak in Paris, but one mustn't write off the 37-year-old Swiss maestro just yet. If Tiger Woods can claim a major for the first time in 11 years, Federer, too, can pull off a miracle at Roland Garros, by winning only his second major on clay, exactly 10 years after his maiden success.