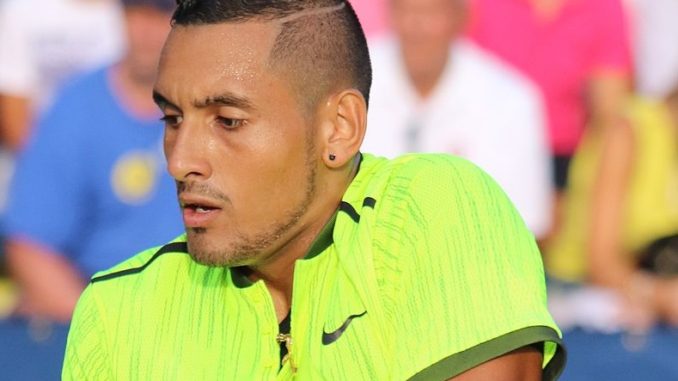 In October 2016, after Nick Kyrgios, sitting out a ban, had agreed under duress (from the ATP) to consult a psychologist if he wanted to get back into the circuit, I wrote cynically about the tennis body's motives letting him off lightly and forcing him to take this step, in a Roar column titled 'Nearly Headless Nick'.
I had said:
"A Pokemon Go-playing, coach-less, mentally-unpredictable, Twitterati who can steadily go up the world rankings while all the time professing publicly how he hates the game, is far more useful in front of the camera than on a couch on Harley Street."
Well, we have come full circle. Three years on, Kyrgios is ranked lower, continues to be referred to as the greatest talent seen on a tennis court in generations, and behaves ever more bizarrely as time goes by. And of course, he has not even threatened to win a Major notwithstanding his omnipresent talent.
In the past months, as his early round exits at tournaments continue, Kyrgios has added a new weapon to his arsenal off the court – public disdain and derision for two of the greatest players of all time – Novak Djokovic and Rafael Nadal.
Djokovic woke up one morning to face this unprovoked tirade from Kyrgios through a podcast:
"I just feel like he has a sick obsession with wanting to be liked. He just wants to be like Roger (Federer)….I feel like he just wants to be liked so much that I just can't stand him.This whole celebration thing (blowing kisses to the crowd) that he does after matches, it's like so cringeworthy. It's very cringeworthy."
The tirade didn't stop there. It was Djokovic's greatness as a player drawn into question next:
"We're talking about a guy who pulled out of the Australian Open one year because it was too hot. No matter how many grand slams he wins, he will never be the greatest for me. Simply because, I've played him twice and like, I'm sorry, but if you can't beat me, you're not the greatest of all time."
Djokovic's response was as mature, as Kyrgios' had been juvenile:
"What can I say to Nick Kyrgios… I really think he's not really a bad guy. I do not know why he declares all these things, whether he wants to draw attention or some motive is different – he obviously wants to be honest, open, transparent, that is part of his character. I respect him, respect anyone, what can I do? I do not have a problem with that, he can speak whatever he wants."
Inevitably, Nadal was next in the firing line during the podcast:
"He's my polar opposite, like literally my polar opposite. And he's super salty. Every time I've beaten him … when he wins, it's fine. He won't say anything bad, he'll credit the opponent, 'He was a great player'. But as soon as I beat him, it's just like, 'He has no respect for me, my fans and no respect to the game'."
Two days ago on Wimbledon's Centre Court, Kyrgios' attack on Nadal shifted gears – from virtual to physical.
Kyrgios had come well-prepared for the second round match against Nadal. He had spent the previous evening at a local pub, and had had enough time to formulate a plan – do his utmost to distract and upset Nadal with his antics and tantrums so that Nadal would snap and go off his game.
Nadal, in turn, well tuned in to Kyrgios' personality, had come equipped to ignore all such provocation.
When none of Kyrgios' tactics had any impact, in the eighth game of the third set, Nadal found himself having to take evasive action with his racquet to fend off a blistering forehand aimed straight at him by his opponent. A disgusted look from Nadal, was wasted on the Aussie.
Asked at the press conference whether he thought he should have apologised to Nadal, Kyrgios went ballistic on the journalist.
"Why would I apologise? I mean, the dude has got how many slams, how much money in the bank account? I think he can take a ball to the chest, bro. I'm not going to apologise to him at all."
Completely nonchalantly, he added:
"I was going for him. Yeah, I wanted to hit him square in the chest."
A few minutes later, Nadal was asked at his own press conference about the same episode. His response was measured. He said:
"When he hits the ball like this, it is dangerous. It's not dangerous for me, it is dangerous for a line referee, dangerous for the crowd."

"I know when you hit this kind of ball, the ball can go anywhere. This time the ball went in, almost hit me, no problem. I am a professional, so I know how to avoid this. But another one, the ball goes straight to the back. That ball hits an eye or something like this, it is a problem."
At the time of writing this, neither Wimbledon nor the governing body of tennis have acknowledged or taken any action against Kyrgios for what was a deliberate attempt to hit an opponent and potentially cause injuries to the officials and the paying public.
With one hate filled swing of the racquet, and the allusion to Nadal's achievements and bank balance as justification for foregoing an apology, Kyrgios has brought the sport of tennis down to a contest between the have and have nots, the committed and the lazy, the mature and the juvenile, the sublime and the ridiculous.
From the pubs in the by-lanes of Wimbledon Village has emerged the 'Completely Headless Nick'. The ghosts of winners past are turning in their graves.