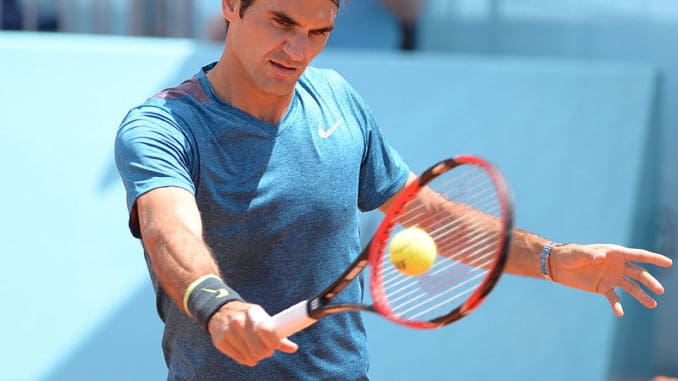 The third day of the 2019 US Open will be played on Wednesday, August 28 and it will mark the start of the second round action. Roger Federer will join Novak Djokovic and Serena Williams for this second round and you can find everything on how to watch the US Open 2019 live streaming online for this day below.
Looking to watch (and bet) on the Day 3 of the US Open 2019 live streaming online? Go to bet365 > Tennis > Live Streaming here*
*Geo-restrictions apply & pre-funded account needed
World number one Novak Djokovic had an easy first round outing on Monday at the US Open and it might get even easier for the Serb as he takes on Juan Londero, an Argentine clay-court specialist in his second round match. Djokovic had dropped just nine games en route to this second round match.
It was as easy, if not easier for Serena Williams on the opening day when she demolished Maria Sharapova for the 20th time in their career. Serena won 6-1, 6-1 to march into the second round where she will take on fellow American and wild-card entrant Catherine McNally for a place in the third round.
Life wasn't as straightforward for Roger Federer, however, in his first round match against India's Sumit Nagal. He dropped the first set and will now hope he doesn't have too many problems when he takes on Damir Dzumhur in his second round match.
Second women's seed Ashleigh Barty had a somewhat similar start to Federer when she dropped the first set to Zarinya Diyas in her first round match. She came back well to beat her opponent in three but Lauren Davis, her second round opponent would have seen a few of her chinks and might prove to be handful in their match on Wednesday.
Some of the other men's players in action will be fifth seeded Daniil Medvedev, seventh seeded Kei Nishikori, 25th seeded Lucas Pouille who faces Great Britain's Daniel Evans, 12th seeded Borna Coric and 15th seeded David Goffin among others.
In the women's section of the draw, the onus will be on the third seeded Karolina Pliskova, fifth seeded Elina Svitolina, 16th seeded Johanna Konta, Kristina Mladenovic, Maria Sakkari, Anastasija Sevastova and Petra Martic among others.
How to Watch Day Three at the 2019 US Open Live Streaming?
A good option to be able to watch the live streaming of the first day of the 2019 US Open on Wednesday, August 28 is to subscribe to either TennisTV.com or WTATV.com, or obviously both if you are a fan of both, men's and women's tennis. Each of these come with a subscription cost with a monthly pack costing $14.99 for ATP tennis live streaming (TennisTV.com) and $9.99 for WTA tennis live streaming (WTATV.com)
The second way of watching this US Open live streaming is to sign up for a pre-funded account with bet365, i.e. sign-up and make a small deposit into your bet365.com account. Or you could have had an account where you have bet with it at least 24 hours before the event to be able to watch the US Open live streaming.
Sign up here with bet365.com to be able to watch (& bet on the) US Open live streaming.
Being one of the world's most trusted bookmakers, they are also known for their world-class platform and top-notch systems to live stream every single major sporting event including tennis and the US Open tennis.

A pre-funded account is an account implies you need to register with bet365 (process mentioned below) and make a one-time deposit of about $10 or more. Once you have that, you can visit the live streaming tab and select the 'US Open' option to catch all the tennis live streaming from this fourth major.
Here's how you can watch the US Open Live Streaming Day One on August 28:
Go to Bet365.com here
Register with Bet365.com (or log in to your account)
Pre-fund your account by depositing $10 (or equivalent currency). You can either let that remain in your account or should have bet in the 24 hours before the live streaming
Select the 'US Open 2019' live streaming option by clicking on Live Streaming on the top
Keep in mind that this site requires you to register with them and then either deposit a sum of $10 into your account (or register as mentioned here) or watch the live streaming by betting on any sport in the past 24 hours. Remember, geo-restrictions might apply.
If you have any other problems accessing the US Open live stream, kindly let us know in the comments section below.
You can also do something similar with Unibet.com . The process remains the same, you will need to register with Unibet.com and once you have a pre-funded account or you have bet on anything using Unibet.com , you can watch the US Open streaming.
If you are in the UK, you have another option to be able to watch the 2019 US Open Tennis Live with Amazon Prime Videos.
Amazon Prime Videos had bought the rights to be able to stream the US Open in the UK and if you are not yet an Amazon Prime member yet, they have an offer for you. You can watch the 2019 US Open with Amazon Prime Videos in the UK by signing up for their free trial.
By doing so, you get 30 days of free viewing experience of ATP tennis and that includes the 2019 US Open tennis.
And it's not just the live streaming of the US Open tennis, you can also watch highlights and interviews, features and other cutting edge technology-driven tennis around not just this final Grand Slam of the season but also many of the other ATP competitions from around the world.
To be able to watch the US Open live streaming using Amazon, download Amazon's Prime video App and install it on your phone or desktop. The tournament can also be watched on Smart TVs.

Launch this aforementioned app to activate it once it's downloaded and then subscribe for the service by picking your preferred subscription plan. The best part about Amazon Prime Videos subscription is that it's free for the first 30 days and you can use this trial period to watch one of your favourite tournaments like the Grand Slam live including the US Open tennis live stream 2019 without paying a penny.
Get your Amazon Prime Videos subscription here to avail of a 30-day free trial!