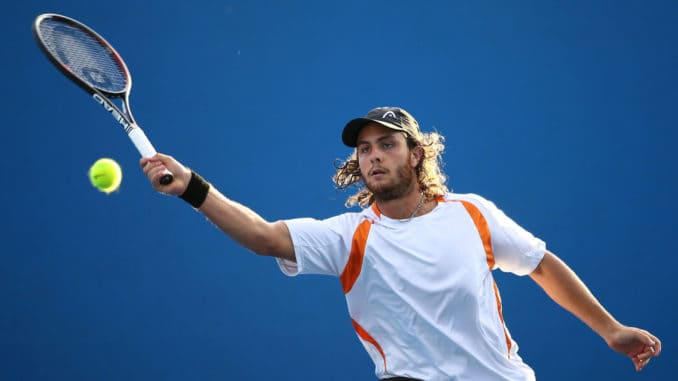 A rare insight into the life of a journeyman tennis player came to light last week after the exploits of Argentina's Marco Trungelliti, ranked 190 in the world, at the French Open.
The 28-year old right-hander has played most of his professional tennis career in obscurity, and although he has won seven titles on the Futures Circuit, has made very little impact at senior level.
With a career high ranking of 126, prior to last week, Trungelliti had only qualified for three Grand Slam events, once in Melbourne for the Australian Open and twice in Roland Garros, on each occasion going out at the second-round stage.
French Open Live Streaming | French Open Tickets | French Open Tips
This year appeared to be no exception, as he was knocked out in qualifying for the French Open and returned to Barcelona, where he lives, and where his family, mother Susanna, brother Andre, and 89-year-old grandmother Daphne, happened to be visiting from Argentina.
However, Trungelliti then got a call from the organisers of the French Open, telling him that Nick Krygios had been forced to withdraw from the tournament with an elbow injury at the last minute, and inviting him to take his place.
The problem was how to get back to Paris, 650 miles – 1050 kilometres – away. Whilst flying was an option, a number of planes had been cancelled, so it was decided to drive, using the hire car the family had rented to drive around Spain during their holiday.
With just half-an-hour's preparation – which included hauling grandma out of the shower – the family crammed into the car, and began their epic journey, with Trungelliti and his brother taking turns behind the wheel. Stopping every two hours for coffee, the exhausted family arrived in Paris just before midnight on Sunday, in time for the Argentine to register for his first round match against Australian Bernard Tomic.
Taking to the court less than 12 hours later, Trungelliti then produced one of the best performances of his career, winning in four sets 6-4, 5-7, 6-4, 6-4.
Suddenly the journeyman was thrust into the media spotlight, and became an overnight star as he recounted to a packed press conference the story of his remarkable trip.
Sadly, the fairy tale then came to an end as he was beaten in straights sets in the second round by Italian Marco Cecchinato. He did, however, have the consolation of picking up €79,000 – £69,000 – in prize money, one of the biggest pay days of his career.
The family have since returned to Spain, this time in more sedate fashion.