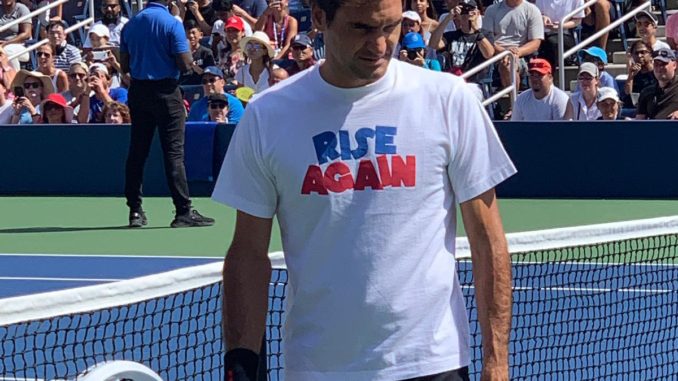 Roger Federer has declared he is gunning to win the 2020 Australian Open and retirement was farthest from his mind but bookmakers don't seem to share the same optimism.
Bet365  has lengthened Federer's odds to lift the trophy on February 2, 2020 to 10/1 behind Novak Djokovic and Rafael Nadal and tied with Daniil Medvedev, who is also 10/1.
This comes on the back of a solid season for Federer in 2019 when he won five titles including the Miami Masters and Hopman Cup, but did not lift a single Grand Slam trophy. Both Djokovic and Nadal won two majors apiece while Medvedev made it to the final at the US Open.
[maxbutton id="10″ url="https://tennisworldlive.com/TWL/bet365-link-for-news/" text="Get 10/1 for Federer to win the Australian Open here!" ]
Few of the experts reckon Federer might not be at the top of his game going into 2020 as he enters his 23rd year of tennis, but the Swiss maestro himself is sounding confident of his chances at not just the Australian Open but also the rest of next season.
Revealing his plan during his exhibition match against Zverev in Mexico, Federer said he was looking to train as hard as he has ever done during the off-season and expressed confidence about winning the first major of the new year.
He added:
"I had two incredible years in 2017 and 2018 when I won there. It's not that long ago so it gives me belief I can do it again. Clearly because it's the first tournament of the year it is gonna be a priority."

"Wimbledon always is. I do not have to say more about that."
Federer also pointed to his plans of featuring at the Olympics which will be played in Tokyo and said it would be exciting to play there. He is a 2008 Olympics gold medallist in doubles while having finished runner-up in 2012 in the singles draw to lift the silver medal.
He also said:
"And then along the way as it progresses in the season. Of course US Open and World Tour Finals if I qualify as well. I have a lot of highlights. At this stage of my career every tournament I enter in is important to me."
The world number three has defied odds in the past to make a solid comeback and win the 2017 and 2018 Australian Open and came to within a point of grabbing the 2019 Wimbledon as well, before Djokovic stunned him in a humdinger of a final. Can Federer surprise his detractors (and bookmakers!) yet again?
Get all the information around Australian Open betting for the 2020 edition of the tournament here.