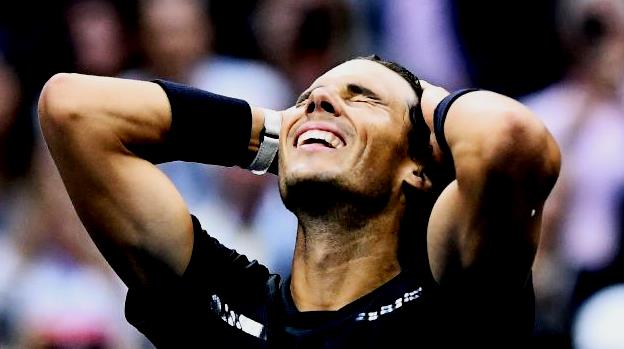 In what was probably one of the most exciting matches at the Mubadala Tennis Championships, Rafael Nadal added another title to his collection but not before he was taken to the brink by Stefanos Tsitsipas.
Nadal came back from a set down to win 6-7, 7-5, 7-6 in the final, extending his record against Tsitsipas to 6-1 on head to head. However, as the scoreline suggests, it needed Nadal to dig deep into the resources of his experience to get past his opponent who has been riding high since his ATP Finals win last month.
Tsitsipas looked good to add another title to his name after having finished the previous season on a high as he came back from a break down to win the first set in a tie-breaker.
Also Read:
However, Nadal survived the onslaught and outlasted his opponent in a match that went on for nearly three and a quarter hours in Abu Dhabi to pull the proverbial mat from under the Greek's feet.
After saving break-points throughout the first set, Nadal finally broke Tsitsipas in the ninth game to take a 5-4 lead. Tsitsipas retaliated with a break back immediately to level the set and in the tie-breaker, he stormed to a 5-2 lead before closing it out.
The Spaniard tried to push forward with a better serve but he was unable to get past his opponent on his serve. And when he fell behind two break-points in the ninth game, Tsitsipas looked like he would soon be serving for the match. Instead, Nadal battled hard to hold serve and converted the only break-point he got in the 12th game of the set.
Nadal an early break in the third set, taking a 4-2 lead but much like in the first set, the Greek broke back to level proceedings and soon took the match into a third set tie-breaker. It wasn't meant to be, however, for Tsitsipas, as he conceded a 1-4 lead to Nadal and again losing the match on Nadal's only match-point.
Tsitsipas had made it to the final on the back of a brilliant win over Novak Djokovic in the semifinal on Friday. Djokovic registered a straightforward 7-5, 6-3 win over Karen Khachanov in an early match for the third place at the Mubadala Tennis Championships.