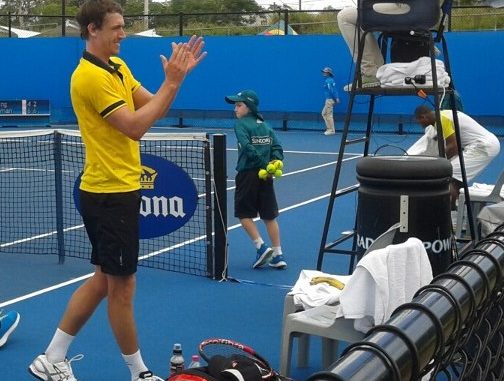 Australian tennis player John Millman has blasted the Indian Wells organisers for not allowing him to use the practice courts despite been promised so earlier in the week.
With the Indian Wells Masters cancelled, the players were allowed to stay back and enjoy the practice facilities at the competition. Or so they had announced anyway. Millman was scheduled to practice with a high seeded player according to a tweet he shared but once that player cancelled, the Australian was also refused the use of the practice courts.
In his tweet, Millman explained the situation and called it a bias against the lower-ranked player even after the competition was cancelled. According to Millman's tweet, he wasn't allegedly allowed his practice time because he wasn't "a top player or a past champ".
Millman tweeted:
"Meant to hit with a high seed tomorrow. That person cancelled today obviously due to there being no tournament on anymore. Informed practice I'd still use time and court as I'm still here."

"Practice desk said no I don't get that time or court because I'm not a top player or past champ."
He added:
"Even when there's no more tournament the bias is strong…classy."
The Indian Wells Open was cancelled earlier this week because of the spread of the coronavirus. Players had already begun arriving to the site and rather interestingly, the tournament organisers looked to have dug their heels over the announcement too. Some of the players had earlier complained about the lack of announcements over whether or not the tournament would go on as scheduled.
Argentina's Diego Schwartzman exhorted the ATP to communicate better with the players instead of them finding things out from "social networks or WhatsApp". He slammed them and called it lazy.
Belgium's Kirsten Flipkens had a similar grouse against the WTA tour and found support from fellow tennis player Sorana Cirstea.
Thank you @FlipperKF !!!!

— Sorana Cirstea (@sorana_cirstea) March 9, 2020
Earlier, Millman had also expressed the need for quicker communication which would have allowed him to stay back and play in the Davis Cup.