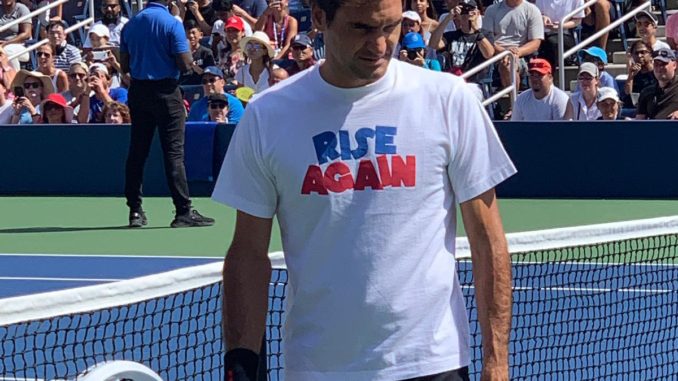 Roger Federer wants the ATP and WTA to merge into a single body, stating his preference in a series of tweets on Wednesday.
Federer asked on Twitter whether he was the only player thinking of the merger between two bodies a good thing and got a string of responses backing him for the call.
He said:
"Just wondering, am I the only one thinking that now is the time for men's and women's tennis to be united and come together as one?"
Also Read:
When queried by a fan what was on his mind, Federer replied he was looking at a merger between the two bodies in a bid to help the sport grow together.
Just wondering…..am I the only one thinking that now is the time for men's and women's tennis to be united and come together as one?

— Roger Federer (@rogerfederer) April 22, 2020
Later he clarified he was talking about the merger of the two governing bodies ATP and WTA off the court, which would help streamline the ranking systems, logos, websites and tournament categories.
Currently tennis is run separately by the two bodies with only a handful of events which see both, men and women participate in the competitions. The ranking system is similar but the points earned out of competitions are different and both have different tournament categories as well.
For instance, other than the Grand Slams, men's tennis consists of the ATP 1000 competitions, or the Masters, and ATP 500 and ATP 250s. At a lower level, there are Challenger and Futures tournaments. On the other hand, WTA has Premier Mandatory competitions, Premier Five and Premier, along with International tournaments, all of which award different points to the participants.
Federer's proposal was met with approvals from many fronts.
ATP chairman Andrea Gaudenzi looked to agree with Federer as well. He said:
"Our sport has a big opportunity if we can come together in the spirit of collaboration and unity."

"Recent cooperation between governing bodies has only strengthened my belief that a unified sport is the surest way to maximise our potential and to deliver an optimal experience for fans on site, on television and online. To that end, I welcome the views of our players."
Nadal responded to the Federer post with a tweet of his own, agreeing with his call to try and get out of the current global pandemic as one institution.
Wimbledon champions Simona Halep and Garbine Muguruza also called it a good idea, while Billie Jean King, who was the founder of the WTA way back in 1973 said this merger is some time coming.
Petra Kvitova and Belinda Bencic were the others who also responded positively to the suggestion.