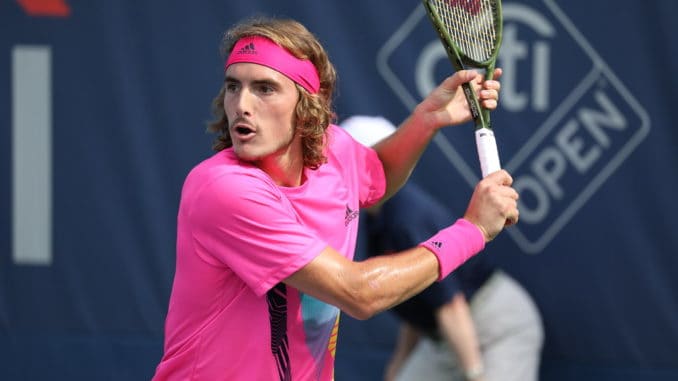 The Ultimate Tennis Showdown was expected to exhibit some fireworks with its changed rules and allowances for player (mis)behaviour and things certainly came to head when Stefanos Tsitsipas and Corentin Moutet were involved in a verbal spat.
A brainchild of Patrick Mouratoglou, the Ultimate Tennis Showdown promised tennis and non-tennis excitement and the Tsitsipas-Moutet provided just that.
Players are allowed to talk to their coaches during the break in this tournament and fans are allowed to listen in to these conversations. And that was the starting point of Moutet's issues during his match against Tsitsipas.
Moutet accused Tsitsipas' dad Apostolos of getting very involved in the match, so much so it spilled over to the match and ended up breaking the Frenchman's concentration.
Speaking to the commentators during the fourth quarter, Moutet said his opponent was a good guy so there wasn't much to talk about him but then went on to call his dad "stupid".
He added:
"He's [Apostolos] speaking when I'm serving, all the time. It's not respectful."
Also Read:
The Greek number one was having none of it though. He rallied behind his father, saying:
"I had experience with this in the past. I don't want to say more, but I don't see why there should be a problem. My father is trying to encourage me before the serve and he's not really interrupting. My opponent makes a big deal out of it."
Tsitsipas narrowly edged out Moutet in a tense match, with the Greek winning it by three quarters to two.
Down 0-2, Tsitsipas rallied back to take the next two 15-11, 19-5 to level the scoreline and then won the fifth set match tie-breaker 3-1 to pouch the encounter.