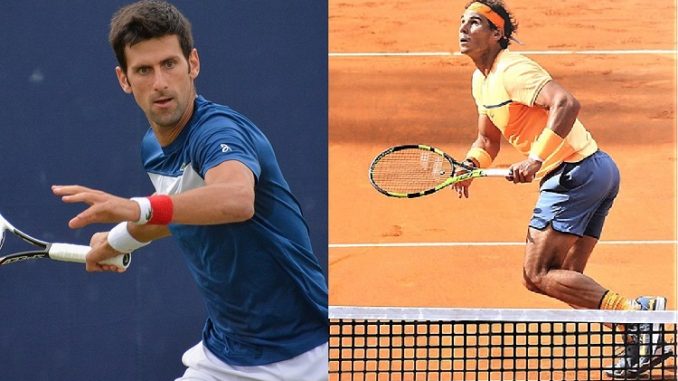 Melbourne Park has seen some of the finest tennis on the tour on a routine basis, across generations and surfaces. Referred to as the 'Happy Slam', it has brought agony and ecstasy to the best in the sport and enthralled fans worldwide regularly. While it is hard to pinpoint the best  matches, TWL puts together its selection of the top five men's matches in the last twenty years.
Looking to watch the 2021 Australian Open live streaming online?
Get all the Australian Open Live Streaming Options Here
#5 Roger Federer v Marat Safin – 2005 Semi-Finals
Defending Australian Open champion Roger Federer's 26-match unbeaten run was undone by fourth seed Russian Marat Safin in an epic semi-final at the 2005 Australian Open.
Safin survived match point in a fourth set tie-breaker to come back and clinch the match 5-7, 6-4, 5-7, 7-6, 9-7, after four hours 38 minutes, exacting his revenge for his humiliating straight-sets defeat to Federer in the previous year's final.
Federer had cruised to the last four of the tournament and looked likely to progress to the final as he surged to a two sets to one lead and held matchpoint in the fourth-set tie-breaker.
Safin, recovered to win that set before breaking in the fifth when the Swiss double-faulted at 3-2 to concede a crucial break of serve. However Federer showed his determination to cling on to his crown by saving two match points at 3-5 down and breaking back.
Federer wasn't finished there either as he survived three further matches point at 5-6 and 6-7, and rescued another two games later, until an error at 7-8 handed Safin a well deserved victory.
#4 Novak Djokovic v Stanislas Wawrinka – 2013 Fourth Round
Defending (2012) champion Novak Djokovic overcame the inspired challenge of the 15th seed Stanislas Wawrinka to get out of the fourth round in a struggle that went past midnight and lasted just over five hours.
Djokovic won 1-6, 7-5, 6-4, 6-7 (5), 12-10, after four hours, where he had hit 54 unforced errors, which was more than in his previous three matches combined, but he fashioned a remarkable fightback and, at the end, just got the better of a gripping conclusion.
The lesser known Swiss, Wawrinka, bludgeoned his way to a 6-1, 5-2 lead and looked on course for a two sets to love lead before the Serb made one of the more telling comebacks seen at the tournament.  When it looked like the Serb was back on track after reversing the tide to lead two sets to one, Wawrinka hung in and dug deep and took the fourth set in the tie-break as a result of sheer grit.
In the sixth game of the decider, Wawrinka cramped up but held to level. At 4-4, he missed out with four break points, the last one on a wrong call with no challenges left.
From that point, neither flinched until Wawrinka served only his second double fault of the match and hit long for deuce in the 22nd game, after nearly five hours of tennis. Djokovic got to match point three times, and brought the drama to an end to close with a forehand that passed a weary Wawrinka at the net.
#3 Roger Federer v Rafael Nadal – 2009 Final
Federer entered the 2009 Australian Open final knowing he could equal Pete Sampras's all-time record of 14 grand slam wins if he beat Spaniard Rafael Nadal. History was put on hold in the Rod Laver Arena when Spain's Rafael Nadal, playing in his first Australian Open final , defeated Roger Federer 7-5, 3-6, 7-6 (3), 3-6, 6-2 for his fifth successive victory over the Swiss and his 13th out of 19 at the time.
The opening set took precisely one minute less than an hour and although it was not of the highest quality,  the tension was immense. Everybody was watching Nadal intently  wondering if his Friday night semi-final against fellow Spanish left-hander Fernando Verdasco, which lasted more than five hours, had taken away his edge.
The match began with five breaks of serve, Federer establishing a 4-2 lead, then managing to lose it. Nadal was hitting some wonderful backhands, striking with a power that jolted the 13-time major title holder. The crowd, longing to be part of history, and as much as they admired Nadal, urged Federer on and he duly responded, winning four successive games to win the second set.
Early in the third, after one deep run to his left, after which he pulled off a brilliant passing shot, Nadal seemed to say something to his coach and at the next changeover he called for the trainer to have his right thigh massaged, as if he was feeling cramps. But, nothing was stopping the Spaniard.
At 4-4 Nadal saved three break points, and three more at 5-5. The Spaniard was clearly pushing himself to the limits, knowing it was imperative to win the third set if he were to have the chance of winning the title. It was an absorbing set with Nadal clinching the tie-break as the clock passed three hours.
Federer jumped ahead 2-0 lead at the beginning of the fourth, only for Nadal t0 hit back but Federer lifted himself, saving five break points in total for a 3-2 lead. This time it was Nadal who cracked and, similar to the previous year's  Wimbledon, the final entered a fifth set.
In the fifth and final set Nadal broke for a 3-1 lead and although Federer saved two match points at 5-2, the three time Australian Open champion put one final forehand long and Nadal was the champion for the first time.
#2 Roger Federer v Rafael Nadal – 2017 Final
In perhaps the greatest and certainly least likely triumph of his career, Roger Federer defeated arch rival Rafael Nadal in the 2017 Australian Open final clinching his 18th grand slam title.
With the victory – 6-4, 3-6, 6-1, 3-6, 6-3 in three hours and 37 minutes , Federer becomes the first man to take five or more titles at three grand slam events and, at 35, the second-oldest man behind Ken Rosewall to win a major singles trophy, a feat he bettered himself the same year at Wimbledon.
The early stages of the first set provided a familiar sight with both players trying to limit the damage wrought by the other's forehand. Eventually, Federer took the first set 6-4 in 34 minutes.  Once the second set began, Federer was suddenly a shadow of the player who had been commanding the contest moments earlier and quickly trailed 4-0, eventually conceding it 6-3.
Another reversal of fortunes in set three with Federer unleashing forehand winners to secure an early break and eventually hitting 18 winners to Nadal's four and looked strong once again winning the set 6-1. Nadal, though was far from done. With a breathtaking forehand winner down the line in the fourth game of the fourth set, he had three break points and took advantage. A sliced forehand winner to make it 4-1 in his favor and winning the set 6-3 pushed it to a decider.
The fifth set was one of the most amazing battels between two of the sport's greatest and while Nadal got the early break, Federer played what will probably be 30 minutes of some of the most scintillating tennis we have seen from the maestro to break back and eventually close out for the title.
Federer weathered a number of nerve-shredding moments in his final service game but after an unsuccessful challenge from his opponent, finally saluted. By that point you had started to wonder whether we would ever see anything like this again.
#1- Novak Djokovic v Rafa Nadal – 2012 Final
Novak Djokovic beat aching limbs and one of the greatest fighters in the history of the game to hang on and  hold on to his Australian Open crown with his seventh successive victory over Rafael Nadal in surely the best performance of his career at the time and one of his best ever.  It was their third consecutive final in a major championship and lasted five hours and 53 minutes, longer by almost an hour at the time. than the previous longest match in a grand slam final, the four hours and 54 minutes Mats Wilander took to beat Ivan Lendl at the 1988 US Open.
The Serb won 5-7, 6-4, 6-2, 6-7, 7-5. Before this match Nadal was 133‑1 in grand slam matches after taking the first set, but not on Sunday night, not against Djokovic in his element. An enduring image was that of the finalists, seated and exhausted, sucking on bottles of water, as the presentation speeches continued.
There were suspicions that Djokovic had tired legs after the semi‑final, that four hours and 50 minutes marathon against Andy Murray two nights previously. Nadal, too, began nervously. He had an edge to his game that ebbed appreciably before returning when it mattered more than five hours later. Either way, the mix of talent and tension made for a ragged spectacle in the first set, that only got better.
Nadal took the first set comfortably and there was a hint he would finally get the better of his opponent already, as he served it out 7-5 in an hour and twenty minutes. As seemingly the ongoing trend, Djokovic found a second wind and put pressure on Nadal, breaking him to go 4‑1 up and punishing him on his serve returns, before taking the second set.
He remained in charge in the third, pinning Nadal deep on service and bossing him in open play, for a very convincing 6-2 win.
The fourth set was spectacular with Nadal saving three break points in phenomenal style to level at 4-4 and the result was in doubt again. He was playing high-risk ground strokes, skirting the white lines wide and deep, to stretch Djokovic as he had not been previously. As the fans sensed a Nadal fightback with impending rain and a closed roof, the match went to a tie-break where Nadal put up a brilliant display to win comfortably.
The first twist of the decider was in the sixth game, when Djokovic hit long and Nadal went 4-2 up, but then we had Djokovic breaking back when Nadal hit long.
It was back on serve with the line a little closer. What followed was sheer brilliance; when Djokovic mishit after a 32-shot rally of exquisite quality, he collapsed on his back and the Rod Laver Arena (including the man himself) rose to applaud both men.
As the players served to save in the match,  majority of the spectators wanted Nadal to win, not many wanted this to end. When Djokovic finally broke to serve for the match, he had to save a break point after a poor backhand return.
Following a good serve down the middle, he put away Nadal's return with admirable coolness in such a fiery environment, threw down his sodden shirt and embraced his friends at courtside.