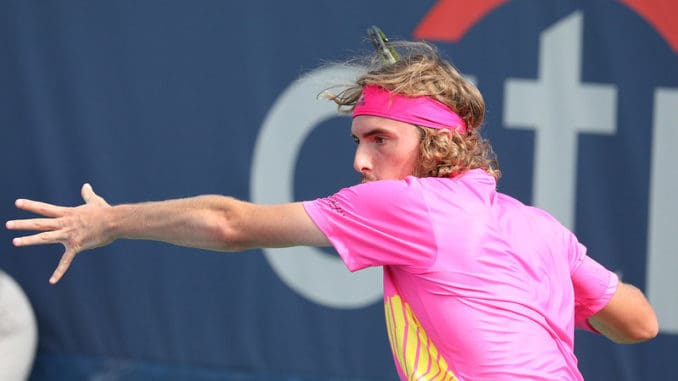 At only 22 years-old, Stefanos Tsitsipas is the youngest player currently ranked in the top 10 in the world. He is sitting at number five, but with an impressive year his stock looks to be on the rise; question is can Tsitsipas claim his maiden Grand Slam title this season?
The Greek youngster has been on the cusp of greatness reaching three Grand Slam semi-finals including Roland Garros in 2020. His forehand is one of the best in the game and on clay especially it can be impossible to return.
It's no surprise therefore that he enters this year's French open as one of the favourites. He is seeded fifth, but he is third in the betting with most bookmakers. Bet365 is popular in big EU markets and is also one of the top Australian betting sites; they are offering odds of 15/4 on Tsitsipas which seems like an excellent bet given his form.
ATP Finals 2019
The Greek's first taste of success came in the ATP Finals in London back in 2019.
In his debut in the event, Tsitsipas went on to beat US Open winner Dominic Thiem. More impressive was the group that he managed to finish top of. Up against Rafael Nadal, Alexander Zverev, and Daniil Medvedev, he held his own and comfortably held the top spot.
He then went on to really make his mark by beating Roger Federer in straight sets in the semi-finals. The final was more tense with a deciding tie-break needed for the first time since 2015. His excellent displays were a sign of things to come.
Monte-Carlos Masters 2021
Tsitsipas landed his first Masters 1000 win early this year with an impressive showing at the Monte-Carlos Masters. He sailed through all of his matches without dropping a single set.
In the semi-finals, he was up against Britain's Dan Evans who knocked a number of the big names in the tournament including David Goffin and of course Novak Djokovic in the round of 16.
Evans cleared the path for Tsitsipas, but the Greek made light work of the semi-final with his aggressive style seeing off the Brit 6-2, 6-1.
He followed up this display with another emphatic victory over another promising youngster in Russia's Andrey Rublev. A series of devastating baseline winners saw out the final 6-3 6-3.
Roland Garros 2021
The French Open this year provides one of his best chances at securing a slam.
Of course, the king of clay, Nadal, will be the one to beat with the 13-time Champion bookies favourite across the board. The Spaniard is heading to the event full of confidence having recently won the Rome Masters on clay a few weeks ago. With an incredible 13 wins in the tournament, he knows his way around the court and knows how to win.
In saying that, there is a chance to beat him. Although he won Rome, he has suffered two losses this year on clay to Rublev and Zverev, both of which were huge upsets.
Nadal will turn 35 during the course of the event and if he struggles through a couple of five-set matches, there is a possibility of fatigue setting in.
Should Tsitsipas make it through the rounds to meet Nadal, then you may argue that both youth and confidence would be on his side.
Let's not forget that Tsitsipas has already beaten Nadal at a major coming back from two sets down in the Australian Open earlier this year. His unwavering aggression and stamina is what saw him through and those traits could come into play again.
Big things are expected of Tsitsipas and claiming a slam this year is certainly not out of his capabilities.