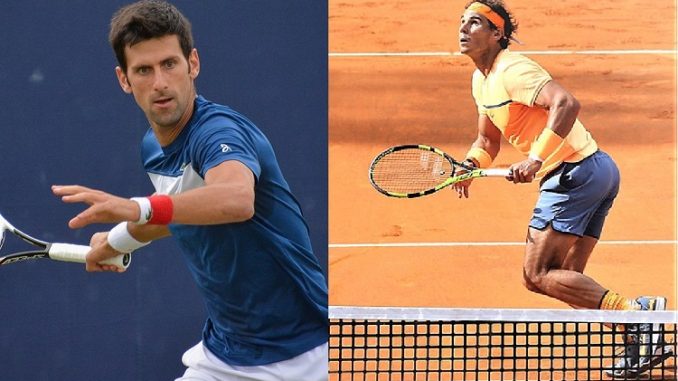 In one of the most awaited matches of the entire season and not just this tournament, the world number one Novak Djokovic will take on Rafael Nadal, ranked third in the men's singles semifinal at the 2021 French Open. Get regular updates in this live blog on what has been described as a final before this final at Roland-Garros along with live scores and streaming options.
Looking to watch the French Open live streaming online?
*Geo-restrictions apply & pre-funded account needed
Rafael Nadal v Novak Djokovic Live Score
Djokovic 3-6, 6-3, 7-6, 6-2 Nadal (* denotes next server, please refresh for the latest score)
Other Djokovic v Nadal Details
Match Timing: Not Before 5.30 pm local time, 4.30 pm BST, 11.30 am Eastern, 9 pm India, 12.30 am Japan (next day), 2.30 am Melbourne (next day).
Nadal v Djokovic Predictions & Tips Here
Live Streaming & TV Options Here
Live Updates
4th Set
Game 8
Nadal needs to get something going here, a last-ditch effort to stay in the match. What he does do instead is serve up a double-fault. Eighth of the match.
And Djokovic gets it to 0-30 on Nadal's serve by slamming it deep and forcing an error off his racquet. Nadal misses a backhand, it goes wide and Djokovic now has three match-points!
Saves one with a 1-2, deep serve and wide forehand, but off the second, he hits one wide to take the match in four sets!
Game 7
A fighting performance is needed and that's what Nadal looked to be egging himself on to do. He misses the first point but then smashes a sizzling winner to level it. A long rally later, however, Djokovic takes the lead again, but a double-fault keeps Nadal in it.
A solid response from Djokovic, a brilliant to get himself a game-point and from a very defensive position, Djokovic carves out the game with a drop-shot winner. What a player.
Game 6
Nadal in a desperate need for a hold, had called the trainer to get some strapping down on his legs or toes or some such place.
Starts off by winning the first point, but Djokovic responds with a sizzling winner right into the corner of the box to level it. Nadal goes 30-15 up after needing to work Nole over, but some solid defense from his opponent gets the equaliser yet again.
And a bad mishit from the Nadal backhand gives Nole a break-point yet again – boy oh boy, he has totally lost it as he gets broken yet again! Djokovic forces him back with a deep return and ensures the Spaniard had no answer to it.
Game 5
What a hold. Djokovic has just won his third game in a row and second hold in a row to love. Can Nadal find himself a way out of this rut?
Game 4
On a roll, Nole, wins the first point with a sizzling winner but Nadal gets him to chase the ball before drilling home the advantage to break his run of five successive points. Another double fault gives Djokovic the toehold he needed, and then a brilliant return gets the Serb two break-points for a break back.
And he breaks back with a Nadal backhand going long.
Another twist in the tale.
Game 3
A sensational, quickfire hold to love for Djokovic should give him some respite but the bigger battle lies ahead when he looks to break back.
Djokovic vs. Nadal break the curfew.

— José Morgado (@josemorgado) June 11, 2021
Game 2
The kind of start you need after losing your serve as Djokovic earns himself the first point and then goes 30-0 up as Nadal serves up a double-fault. Nadal retaliates with the kind of defensive tennis that only he can dish out and brings it back to 30-30, and a Djokovic backhand error allows the Spaniard the luxury of a game-point.
A solid rally followed by Nadal clinching the point and game gets him a rare 2-0 lead.
Game 1
Here we go now. For the first time since 2015, Nadal has lost two sets in a match at Roland-Garros, and that's after being 4-0 up in the first set. And he starts things off with a forehand winner off Djokovic's serve.
A solid serve gets the Serb a 30-0 lead, but a missed drop shot and a couple of other errors get Nadal a break-point all of a sudden. And out of nowhere, Djokovic's inability to close out the point allows Nadal to carve out the break.
Where did that come from?
3rd Set
Tie-Breaker
A double-fault from Nadal gives Djokovic the early mini-break, but a backhand error off the the Serbian racquet allows it to get to 1-1. A well-thought serve allows Djokovic to round off his serve with a winner and a 2-1 lead.
A longish rally later, Djokovic attempts a drop shot which he misses, allowing Nadal to level at 2-2. And Nadal goes 3-2 ahead with Djokovic pushing a backhand wide.
And oh my, Djokovic rushes to the net and carves out a volley, Nadal isn't getting close to that one and we are back to 3-3.
Under pressure, Djokovic produces a crazy winner to get a 4-3 lead and we are still nowhere close to knowing who's pocketing this.
May be Djokovic, as Nadal messes up an easy volley after doing all the hard work to go 3-5 down. A drop-shot brings him within a point of Djokovic but the Serb now has a chance to serve it out.
An ace gets Djokovic two more set-points, and the Serb converts the first one this time.
Stop the press, Djokovic is two sets to one up.
Game 12
Can Djokovic now calm himself down and push this one into a tie-breaker? He starts off well alright with a serve that forces the Nadal error.
A net cord helps Nadal, as he hits a punishing forehand that draws out one too long from Djokovic. Another ball hit too long gives Nadal a 15-30 edge, but Djokovic is sharp enough to rush to the net and blast a overhead smashing winner.
A good second second service gets us to within a point of a tie-breaker, but a blitzkrieg of a winner from Nadal gets the score level at deuce again.
Another rally that could make the rally of the match montage, and it ends with Djokovic tapping it into the net, giving the Spaniard a set-point. How does he save it? With a drop shot that Nadal just doesn't get to!
Nadal misses a chance to smash a backhand winner, giving Djokovic a game-point now and a Nadal error gets us to the tie-breaker.
Game 11
This has been some battle and Nadal gets himself the early lead. A double-fault follows, making it difficult for Nadal yet again, but a longish rally later, Djokovic hits one long and gets the Spaniard the edge again.
An excellent Djokovic return sets up a forehand winner for the Serb which gets us back to 30-30 and a shoddy inside out forehand goes out for Nadal, giving Djokovic another break-point.
A smashing winner from the baseline to a Djokovic lob gets us to deuce and another brilliant rally later, advantage Djokovic. A crazy, crazy point which saw some crazy court coverage from both there.
Nadal responds with a forehand winner and an accurate serve to Djokovic's backhand forces him to drill long. And Nadal holds with an ace, getting him pumped up at his 6-5 lead.
Game 10
Djokovic serving for the set, starts things off the way he would have liked with a well built-up rally which ends with an easy winner into the open court. A forehand too long from Nadal gives Djokovic the kind of start he needed but the Serb then misses an easy forehand to get the world number three a breather.
A stunning winner from Nadal as Djokovic rushes into the net gets them to 30-30, and for the nth time, a stunning winner off the Nadal forehand gives him a breaking opportunity.
And he breaks! Who would have thought! From 30-0 up, Djokovic missing an easy forehand and dropping serve.
Whoa.
Game 9
A shot too long from Djokovic followed by a Nadal ace gives the latter a 30-0 lead but the Serb then produces a stunning winner to the corner of the court. Nadal retaliates with a shocking winner of his own to get himself two game-points, and converts the very first one.
Game 8
Another point, another error. Nadal's forehand is letting him down majorly and add Djokovic's increase in intensity we have the Serb take a 30-0 lead.
Djokovic misses one forehand of his own, making it his second unforced error of the set, and he doubles his count for the game to level it at 30-30. And then, a third unforced error – whatever's happening there to the Serb – gives Nadal a chance to break right back.
A code violation for time threatens to derail Djokovic but he does well to maintain his composure and bring parity and then hits an excellent winner down the line off backhand to get himself a game-point.
Back to back unforced errors from the pair allows the world number one another game-point, and this time around Nadal pushes a return wide to give Djokovic the game.
Game 7
Djokovic might have just been broken but he immediately puts the pressure back on Nadal's serve by pushing him in both the first two rallies. Wins both points, and then aided by a forehand error from Nadal, gets him three break-points.
Broken! Another unforced error, another point and Djokovic is back in front.
That was Nadal's 14th unforced error to go with Djokovic's one.
Unreal stuff.

— José Morgado (@josemorgado) June 11, 2021
Game 6
A rare unforced error from Djokovic, in fact his first set of the set, gets us going in this game but he rushes well to the net off a Nadal slice and smashes a winner to level it.
A brilliant winner on return for Nadal has even Djokovic applauding, and then fails to convert a drop shot as Nadal converts the lob with a smashing winner aided by the net cord.
Two break-points for Nadal, of which one is saved when he pulls off another unforced error, and the second, well, the second gives us the rally of the day. Absolutely brilliant stuff from both players leading to a Djokovic winner and gets to deuce. 23 shots on that one.
A third break-point follows soon after for the Spaniard and this time around he breaks back with a sizzling forehand winner while on the back-foot.
What levels.
Game 5
Is fatigue catching up with Nadal? Because an easy overhand smash gets missed, making it his eighth unforced error of the set, as compared to his opponent's nil, and a ninth one gives Djokovic two break-points!
A drop shot from Nadal helps him save one, and a rare ace gets him to deuce but then again, Djokovic pushes him around, makes it tougher for his opponent and gets himself a third one.
And this time Djokovic does break, with Nadal missing a drop-shot. Wow. Who would have thought.
Game 4
A good serve from Djokovic sends Nadal scurrying for a return which allows the Serb to put away an easy winner. Nadal fails to get the next one back and a backhand error off the Spaniard's racquet gives Djokovic three game-points.
Djokovic needs just one to hold. One of the easiest holds in recent times.
Game 3
Nadal starts off well but a stunning sliced, drop-shot from Djokovic gets it to 15-15. It's a rare one that Nadal doesn't pick.
A longish rally later, Nadal slams one long to give Djokovic bit of a toehold, but some bludgeoning forehand play levels it up again.
A break-point for the now confident Djokovic follows, but Nadal manages to save it with a sizzling serve that is a starting point to a solid forehand winner.
Nadal misses his backhand, hitting it into the net to give Djokovic his second break-point of the game, but again, the Spaniard gets into some brilliant positions at the baseline to thwart the deep Djokovic returns.
And a couple of brilliant points land in favour of Nadal, allowing him to hold after facing a couple of break-points.
A crucial hold for the world number three.
Game 2
An easy volley that Djokovic puts away to begin his serving in the third set, and while a Nadal winner brings him back, the Serb takes the lead again after running his opponent around and drilling in a winner.
Nadal misses his return to give Djokovic two game points, which he finishes it off with his second ace of the match.
Nadal is now firmly losing the cross court battle between his backhand and Novak's forehand (just like set 2 in Rome). Depth has really suffered

— Matthew Willis (@mattracquet) June 11, 2021
Game 1
After a bathroom break, Nadal will kick-start serving in the third set and will hope he can do a better job of it than last time. We are nearly two hours into this one already incidentally.
Nadal starts off well as he takes the first two points and a kick-serve gets him three game points with Djokovic hitting his return long. Djokovic takes advantage of the next second serve though, a deep return forcing Nadal to find the net, but a monstrous forehand from Nadal finds the baseline and gives him the game.
Djokovic v Nadal In-Play Betting Odds with bet365 after Set Two
Djokovic: 7/4
Nadal: 4/9
2nd Set
Game 9
Djokovic will now serve it out for the equalising set. And he starts off well as he smacks a forehand cross-court winner hitting it inside out but misses a forehand down the middle.
Oh. My. God. What a point at 15-15.
Nadal gets pushed all around the court, is out of the rally multiple times and he ends up winning the point with a winning pass.
Djokovic forces Nadal into a mistake next point to level it at 30-30, but the pressure of the moment brings out a double-fault from Djokovic. Break-point to get back on serve for Nadal, who then ends up hitting one wide. That's the second unforced error of the game from Nadal, allowing his opponent back here.
Deuce.
Another break-point from Nadal as Djokovic tried to rush into the net but ends up hitting the net. Djokovic saves another by setting up the point beautifully and then settling it with a winner.
Another deuce.
An excellent serve gets Djokovic a set-point, and a mishit forehand from Nadal awards the Serb the set! One set all.
Game 8
Nadal will now serve to stay in the set, which is a far cry from when he was on the verge of taking a 5-0 lead in the opening set.
A stunning return winner from Djokovic is in line with how the set has gone, but Nadal crashes a couple of winners to get himself two game-points. An easy hold in the end gets him the game he needed, forcing the world number one to serve it out now.
It's criminal that this isn't the final. Clearly the two best players in the field.

— AllAboutTennisBlog (@TennisBlogger1) June 11, 2021
Game 7
Back to back drop-shots from Djokovic, one that goes in favour of Nadal and the second in his own. Djokovic looks like he isn't allowing Nadal that extra millisecond but the Spaniard raises his level again to force a long groundstroke off the racquet of Djokovic.
And an extraordinary rally next up shows why Nadal has done this well at Roland-Garros. Just refuses to die in the rally, and in the end forces a mistake to get two break-points.
Djokovic saves the first by working Nadal all over the court and finishing it off with a volley smash and the second is down to a horrible Nadal backhand.
And what happened there, Djokovic? He has just missed a simple backhand volley to finish the point, blowing away a chance to get a game-point after he looked like he had the upper hand all point.
Another rally that could make it to the hall of fame goes in favour of Djokovic, makes it deuce and a missed drop-shot gives the Serb a game-point.
Nadal manages to save it, thanks mainly due to a poor second serve but Djokovic hits a sizzling backhand cross-court winner to earn another game-point. And Nadal misses a forehand on return to give Djokovic the hold he desperately needed.
Game 6
This is some brilliant tennis from Djokovic, who looks to be getting more time to play aggressively now. And not so soon after, another unforced error gives Djokovic three break-points to regain his advantage.
Nadal saves the first by running Djokovic around and slamming a forehand winner down the middle. Off the second, Djokovic pulls out a drop shot but like a lot of previous occasions, Nadal is waiting for it, runs to it and converts it into his point!
But Djokovic still has a third break-point and this time around, he wins the point by forcing Nadal into a corner and drawing out an error. Djokovic gets the break he needed.
Game 5
A relatively easy hold for Djokovic helps him stabilise the ship after losing the last two games. Aided, in no small way, by Nadal unforced errors in this game, like has been the case throughout this set.
Rafa things. 🔥#RolandGarros pic.twitter.com/m4ch9Tt2JC

— Vinayakk (@vinayakkm) June 11, 2021
Game 4
Again, not the best of starts from Nadal, who is finding it difficult to get consistency in his groundstrokes in this set as a sixth unforced error gives Djokovic the early lead. Nole obliges by hitting one into the net of his own to level things off. And Nadal goes 30-15 up after Djokovic ends up hitting another long as the ball kicks up a little on him.
Nadal looks to hit an inconceivable angle but ends up hitting it wide to get them level again but a brilliant serve from the Spaniard ensures he will continue to remain in front. Game-point for Nadal. And he levels it out due to a Djokovic error again.
Game 3
This game began with Nadal having five unforced errors to his name in the set to Djokovic's zero. And Novak sends three of them long and wide, unforced, to give Nadal three break-points.
A sizzling forehand winner down the line from Nadal gets him the break right back! 13-time champion showing his class.
Game 2
The tide looks to be turning here in favour of Djokovic. After an easy hold to kick-start the first game, the world number one has now managed to carve out the first two points and a long rally followed by a backhand unforced error from Nadal gives Djokovic three break-points.
A drop shot off the back foot from Nadal has even Djokovic stunned and eventually smiling to save one of them but forehand shanked wide gets the Serb a break! Match on.
Quality 💯#RolandGarros | @RafaelNadal pic.twitter.com/Z71LM0dhYl

— Roland-Garros (@rolandgarros) June 11, 2021
Game 1
A much more confident looking Djokovic starts off with a good couple of rallies, winning them both and Nadal bunts one wide to give the Serb three game-points. And an easy hold to kick-start the second set here for Djokovic.
Djokovic v Nadal In-Play Betting Odds with bet365 after Set One
Djokovic: 4/1
Nadal: 1/6
1st Set
Game 9
An important first point goes in favour of Nadal after Djokovic fails to prolong the rally, and the Spaniard goes 30-0 up thanks to a poor return of serve from the Serb.
A brilliant rally follows next, sees Nadal come back from death to win the point and earn himself three set-points. Djokovic saves one with a Houdini-like return to Nadal's smashes, and then another one through some brilliant returning.
Set-point number three now for Nadal in this game, and sixth overall, which is saved via a Nadal forehand that's hit into the net.
A good serve dipping away from Djokovic gets Nadal the seventh set-point and this time around, it's his forehand that draws out the error from Djokovic's to win the first set.
Djokovic hung on but it wasn't enough.
Game 8
A second serve from Djokovic doesn't create as much pressure and on both his first two points, he faces the same problem. Nadal runs Djokovic ragged to grab a 0-30 lead but off the third second-serve, the Serb manages to get the zing he needs on his groundstrokes. A winner brings Djokovic back into the game.
An ace, the first of the match for him, levels things out but he then hits one long to give Nadal another set-point. Saved by Djokovic through a strong serve, he then gets himself a game-point thanks to an extremely tight rally.
An unforced backhand error gives Djokovic the game, and his fight continues!
Game 7
Is Djokovic showing some signs of resurrection as he takes a 30-0 lead on Nadal's serve? An excellent, kicking second serve keeps Nadal in the point and when Djokovic punches one into the net, it gives Nadal a start.
Not for long though as Djokovic plays an exquisite drop-shot to get himself two break-points. Nadal saves both of them though and a brilliant serve allows him to smash a winner and get himself a set-point.
Djokovic prevents Nadal from running away with it though as this time around he smashes with vengeance, but the genius of the Spaniard gets him a second set-point. A poor back-hand ends with Nadal shanking it into the net to allow Djokovic to pull it back, and he then wins himself a break-point as Nadal hits a forehand long.
Fifth break-point for Djokovic and surely he would be hoping he converts at least one of these? Make things difficult…
…and he does get that break with a Nadal double-fault. Resurrection alright.
Game 6
Serving to avoid a bagel, Djokovic attempts to get Nadal involved in a rally and tries to finish it off with a drop-shot. Instead he gets 'drop-shot' back, unable to get anywhere close to it. Levels the game by winning the next one and goes 30-15 up with an excellent backhand winner.
Djokovic wins the next one to get himself two game-point but we know what happened the last time he got those. And the magic of Nadal allows him to pull one back with a stunning forehand winner.
This time around, however, Nadal manages to shunt one into the net to give Djokovic a game at long last.
No bagels. Now for a bread-stick?
Game 5
Things begin quite smoothly for Nadal who wins the first couple of points but a double-fault – his second of the set – gives Djokovic a toehold at 30-15. Another second serve follows, but Djokovic is unable to take advantage of that as he hits another one long to give Nadal two game-points.
Nadal misses a backhand, hitting it into the net cord but an excellent first serve follows soon after and it allows Nadal to grab a 5-0 lead.
Game 4
As Djokovic loses the first point, those memories of that first set bagel last French Open would be returning. And things worsen as Djokovic cracks a backhand wide to give Nadal a 0-30 lead.
An unforced forehand error from Nadal allows Djokovic to make bit of a comeback but he needs more of his first serves going by the looks of things. And he doesn't again. A second serve follows, Nadal returns well but is it good enough to draw out the kind of error that the Serb delivers? Don't think so.
Nadal needs just one of the two break-points he gets to take a 4-0 lead. Um.
Game 3
Nadal starts off with an easy point and then makes it 30-0 with a drop-shot that hits the net cord. That was a well-set point after some excellent end to end running from Nadal, who then serves up an ace to get him three game points.
And then another quick, kick serve gets Djokovic hitting long and Nadal holding to love.
Game 2
Djokovic has begun well. Gets Nadal running to both sides before drilling a stunning forehand winner. A double-fault follows soon after but Djokovic is then aided by the net cord to leave Nadal wrong-footed.
Djokovic wins the next point to get himself a couple of chances to hold but an forceful forehand from Nadal saves one of them. Djokovic then misses a drop-shot to get them back to deuce, but an excellent serve gets him his third game-point.
Nadal takes advantage of a poor serve next and brings it back to deuce, and a well-read return to a Djokovic drop-shot gives the Spaniard his first break-point of the match.
And he does it! Nadal has BROKEN through! Djokovic had a couple of chances to smash a winner but Nadal managed to get them away and then turns things around to win that point. Whoa. What a turnaround.
Game 1
Nadal to serve. And it starts off with a solid rally, with excellent angles from Djokovic that wins him the point. Nadal comes back strongly with a good serve and forces an error from Djokovic before a stunning rally goes in favour of Nadal.
Djokovic tried out an early drop shot on that one but Nadal was quick to get there and then ran back to lob-smash it back.
The Spaniard tries his own drop shot and this time Djokovic is as quick to get there, which ends with the Serb smashing a winner. An unforced error from Nadal earns Djokovic an early break-point but the Spaniard saves it with an ace.
An interesting exchange follows soon after with Djokovic running Nadal ragged and getting an error out of him to get himself a second break chance. Another break-point saved but this is already looking so different from the start of the match in their previous meeting at French Open.
A solid forehand winner after Djokovic misses reading the Nadal direction gets the Spaniard his first game-point. Lo and behold though, Nadal serves up a double fault to bring it back to deuce.
An excellent rally, a Djokovic drop-shot, a Nadal lob and a poor Serb smash ends in favour of the Spaniard and then a backhand error gives Nadal the game. Nine minutes for the first one!
Pre-Match
5 pm GMT
Watching live pictures of Novak Djokovic and Rafael Nadal waiting in the tunnel, waiting for their turns to walk out to the applauding fans. Nadal starts off to a huge ovation with a few Spanish flags in the crowd. Djokovic gets a few of his own claps and a Serbian flag is waved in his welcome.
Nadal, incidentally, is a HUGE favourite going into this one, with SpreadEx offering 2/5 for his victory. Djokovic is 15/8, a stark contrast to how he had gone neck in neck the last time they had faced off at this court.
Nadal will serve first.
4.45 pm GMT
A great match in its own right sees Tsitsipas defeat Zverev to make it to his first ever Grand Slam final. Which also means he can now sit back and relax and watch two of the biggest legends in the sport face off in the second semifinal.
Which is up next.
4.30 pm GMT
It could be that by the time I have ended this line Tsitsipas wraps up the match. Or not.
Because even as I type this, he leads 5-2 in the final set and off Zverev's serve, he has his fourth match-point. Saves it though. And it goes on, may be not for too long but we are already three and a half hours into this.
Way past the bed-time of some of our readers in Asia and Australia.
4 pm GMT
Not much has changed. Not as far as the start of the semifinal we are waiting for at least…
…because the Zverev-Tsitsipas match is going into a fifth set. Zverev has just won the fourth 6-4 and levelled things out from being two sets up. So, the Nadal-Djokovic match will have to wait, may be for another half hour or so.
3 pm GMT
Hello, hello! A very warm welcome – or a cool one if you are reading this from some place on the poles – to our live coverage of the French Open final semifinal which will see the world number one Novak Djokovic take on the world number one on clay, Rafael Nadal.
We are still some away from the match though as we sit through what is turning out to be an interesting first semifinal between Tsitsipas and Zverev.
Tsitsipas swept through the first two sets but a rather surly looking Zverev – after a call went against him late last set – has managed to make some sort of a comeback by winning the third.
We sit and we wait for the entrées to get done but will the main course deliver a lavish spread or fall short of those expectations? We should soon know.
Preview
What a match we have for the men's singles semifinal at French Open. Call it a quirk of fate or the decision to not put Nadal as the second seed despite his world number three ranking – or a combination of both – but that has resulted in these two players facing off before most fans would have expected them to.
That shouldn't dampen the occasion though but it does bring Djokovic into the encounter a lot more than it might have had this been a final according to some.
The last time these two players faced off in a Grand Slam was also at this very competition, last year, and Djokovic had come into that encounter with some solid form and on level pegging terms for a change with Nadal.
He was thrashed in straight sets.
This time around, Nadal has been at the top of his game while Djokovic has had his issues. That the world number one has still come through is a testimony to his class but there have been occasions when he has been tested.
Like in the quarterfinal, Djokovic was required to come back from two sets down against Lorenzo Musetti before snatching a five-set win. And then again he dropped a set to Matteo Berrettini.
On the other hand, Nadal's progress to the quarterfinal was quite smooth. There was the odd break of serve but even a player like Jannik Sinner failed to take a set off him. It was only Diego Schwartzman who did push him in the last eight, taking him to four sets but by the time the fourth set came around, Nadal pumelled him 6-0.
More recently, these two had faced off in the Rome Masters final where Nadal was stretched to a three-setter but found a way, as usual, to get past Djokovic. Will he do that again or will we see a Djokovic stunner to carve out a chance to win his 19th Grand Slam title.
Follow our live blog & updates here from 5.30 pm local time, 4.30 pm BST, 11.30 am Eastern for this Djokovic-Nadal semifinal.