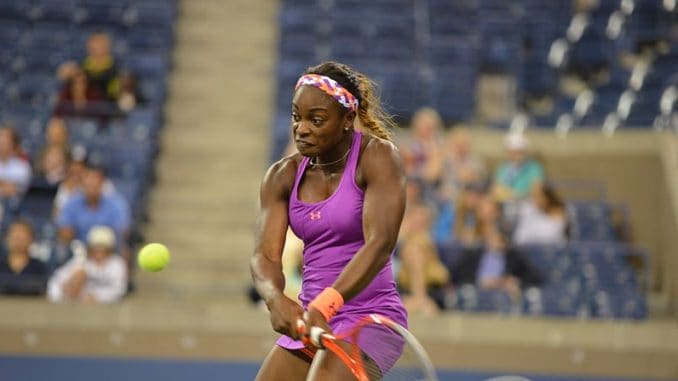 Sloane Stephens got off to a winning start in Singapore, with a well-deserved victory over Naomi Osaka.
It took Stephens a little under two hours and 30 minutes to defeat her Japanese adversary. The American, who has been seeded fifth for the tournament, won the match 7-5, 4-6, 6-1.  Over the course of the match, Stephens converted a total of seven break points while maintaining a first serve rate of 69%.
However, she was no match to Osaka's aces and winners – the reigning US Open champion hit as many as 7 aces and 27 winners, in comparison to zero aces and only 19 winners on Stephens' end. Despite a remarkable performance, Osaka committed an astounding 46 unforced errors as against 31 by her opponent.
The first set began with Osaka losing the break point, only to clinch it back in the second game. The two players were even for pretty much most of the set. Things turned around at 5-5 when Osaka lost the break point to give Stephens a much-needed lead. The American was quick to capitalize on this and she won the first set 7-5.
In the second set, Osaka staged a comeback in an intriguing fashion. She managed to break Stephens' serve halfway in the set to take a dominating 4-2 lead. However, to retain that lead, she had to face as many as four deuces to take the advantage and go up 5-2. Once again, Osaka lost the game at 5-4 but she got back into the match by breaking Stephens in the next game and taking the set 6-4.
The final set, however, was an entirely different story. Even though Stephens won the set 6-1 on account of three important break points, it doesn't tell the tale of Osaka's perseverance. The Japanese fought very hard in the first three games before appearing to run on fumes. It was also in this set that she committed 16 unforced errors – the most in any set.
This is the first time that Stephens in playing in the WTA Finals and has certainly done well to find her rhythm. On Tuesday, October 23, we will see Caroline Wozniacki go up against Petra Kvitova while Elina Svitolina will face Karolina Pliskova.