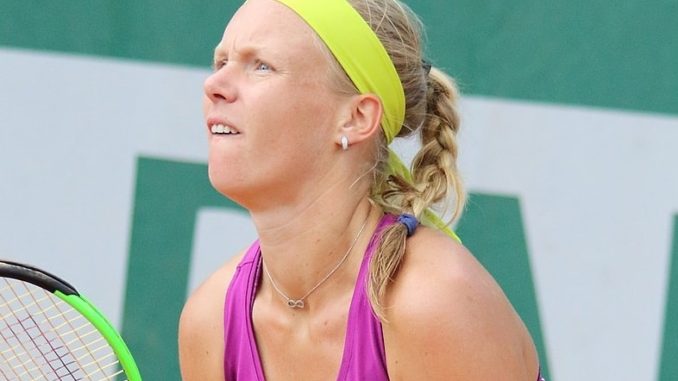 The match between Kerber and Bertens was a three-set affair which lasted for a little over two hours. It saw the Dutch stage a comeback to win the match 1-6, 6-3, 6-4.
Kerber, who was the runner-up in Singapore in 2016, started off strong with an imposing 6-1 win in the first set. She broke Bertens on two separate occasions while saving two break points to take an unassailable lead. In the final game of the set, however, Bertens put up a good fight but her efforts were in vain. While she managed to save two set points, she also squandered three break point chances.
Things got interesting in the second set with Bertens making a comeback with a 6-3 win. She lost her serve in the first game although, a couple of games later, she was back on track after breaking Kerber's serve at 2-2. The Dutch won a break point once again after testing the German's endurance. The game alternated between deuce and advantage no less than four times with Bertens finally winning the break and taking a 3-5 lead. Kerber was exhausted by the last game and Bertens sailed to a comfortable win.
The third set, however, was the most entertaining set of all. Both the players broke each other's service constantly to keep the scores even. It started with Kerber losing the break point to her opponent, only to break Bertens in the very next game. This continued up until 3-4 post which, Bertens, being up a break now, managed to retain her service and took a 5-3 lead.
Kerber followed the same trend quickly won the game on the back of three consecutive points to stay in the match at 5-4. Bertens, who was now just a game away from winning the match, quickly dispatched Kerber to win the final game at 40-30.
Bertens, who has won a total of three titles this year – including the Korea Open, was better than her German opponent in almost every aspect. She won 65% of her first service points and had a total of 33 winners of which, 16 came in the final set. Kerber, by contrast, managed to deliver only 11 winners. Both the players converted a total of six break points.
However, Bertens could have won this match comfortably had it not been for her 45 unforced errors as against 24 committed by the German. She also had an astounding 12 double faults in a stark contradiction to Kerber's three.