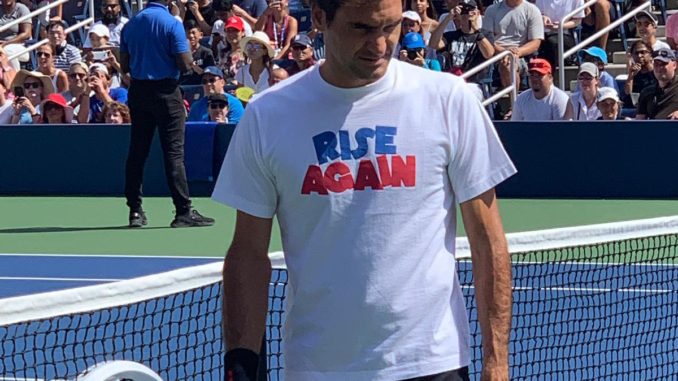 For close to a decade men's tennis has been dominated by the Golden Trio: Rafael Nadal, Novak Djokovic and Roger Federer. However, as we enter the 2020s and the trio begins to age, fans are wondering whether we can expect to see a similar structure of dominance in the future. If so, who will it be?
By watching current matches, you may see who is likely to claim the throne and predictions on those matches are available with OLBG's expert tipsters.
Federer will likely be the first to drop off. The 39-year-old has had an unbelievable career, but injuries seem to be catching up with him. A knee problem forced him out of the Australian Open recently, while he also lost to 20-year-old Felix Auger-Aliassime in the second round of the 2021 Halle Open — his earliest exit at the tournament ever.
As for Nadal he has also experienced injury problems in recent years but the fact that he has won six of his last seven Grand Slam finals — during a period spanning 2017-2020 — suggests he still has plenty in the tank.
Novak Djokovic, meanwhile, remains at the peak of his powers. So far in 2021 he has won the Australian and French Open. He is also among the favourites for Wimbledon.
However, five years down the line it is likely that all three of the Golden Trio will retire. This begs the question: who will replace them? We have profiled some of the rising stars that seem most likely to dominate tennis in the decade to come.
Dominic Thiem
Dominic Thiem is not exactly a hot prospect, but he is viewed by most as the heir to the Golden Trio's crown. Turning professional in 2011, the 27-year-old has enjoyed a steady rise since. After several near misses he finally reached his maiden Grand Slam final in 2018, taking on Rafael Nadal for the French Open title.
Unfortunately, the King of Clay made light work of the younger player and Nadal would also beat Thiem the following year. The Austrian then suffered defeat in the 2020 Australian Open final to another of the Golden Trio, this time Novak Djokovic.
Eventually his wait for a Grand Slam title would come to an end in 2020 when he defeated Alexander Zverev to win the US Open. Thiem's aggressive playing style can be devastating at times, but he is also equipped to play defensively. This means he has all the ingredients to dominate the sport in the coming years.
Daniil Medvedev
25-year-old Daniil Medvedev is currently ranked as the second-best men's player in the world, behind only Djokovic. Accomplished at grinding his opponents down from the baseline, the Russian has enjoyed plenty of success in his young career so far.
Although he is yet to win a Grand Slam, losing the 2019 US Open and 2021 Australian Open finals, he has accumulated just over $16m in prize money by performing well at other ATP Tour events.
With the competition at the top of the game set to thin over the next few years, Medvedev will be desperate to take full advantage.
Stefanos Tsitsipas
With his free-flowing locks and eccentric off-court style, Stefanos Tsitsipas is one of the most popular tennis players around. He is also a top competitor.
Tsitsipas rose to prominence in 2019 when he made it all the way through to the semi-finals of the Australian Open before being bested by Rafael Nadal in straight sets. Since then, the 22-year-old's star has continued to shine.
In 2020 he again made a Grand Slam semi, this time in the 2020 French Open. A year later he would go one better before being edged out after five sets against Novak Djokovic. It was Tsitsipas' best performance to date and people are excited about what he could accomplish next.
Jannik Sinner
Still just 19, Jannik Sinner has already risen as high as No. 17 on the ATP World Rankings.
Despite his tender years Sinner is coolness personified on the court. Some have even compared him to a young Federer. His best Grand Slam performance came in the 2020 French Open. Here, he reached the quarterfinals, where he was defeated by Rafael Nadal.
There is certainly no shame in that, and we fully expect Sinner to secure his first major tournament win before long.
Felix Auger-Aliassime
Rangy and attacking, Felix Auger-Aliassime is already a crowd favourite despite being just 20 years old. Hailing from Montreal, Canada, as we mentioned at the top of this article, he secured a stunning victory over Federer recently.
That is not the only impressive feat Auger-Aliassime has managed in his career either. The youngster has already reached the final of eight separate ATP Tour events. Although he has lost each of these, the fact he is qualifying for the biggest tournaments so regularly is credit to the young man.
Jack Draper
The United Kingdom loves a tennis prospect and the latest starlet to capture people's attention is Jack Draper. The London-born 19-year-old made his ATP Tour debut at the 2021 Miami Open but unfortunately had to retire with injury.
After this false start he appeared at the 2021 Queen's Club Championship. Inspired by playing on home soil he secured a terrific upset against World No.23 Jannik Sinner. Draper is still a diamond in the rough but after a brilliant junior career it will be interesting to see if he can rise to prominence in the men's game.