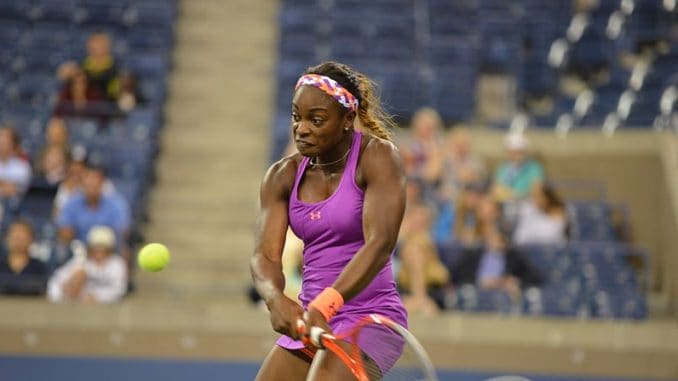 Sloane Stephens bagged her second win in Singapore on Wednesday evening after defeating Kiki Bertens. Meanwhile, Angelique Kerber dispatched Naomi Osaka in a three-set thriller to boost her chances of make it to the semifinals.
Stephens' match against Bertens went on for a little under two and a half hours – a thrilling game that saw the American eventually win with 7-6(4), 2-6, 6-3.
The very first set went into a tie-breaker after both the players had their serves broken twice. The two players appeared to be fairly throughout the set, especially in the decider. Bertens lost her service thrice in quick succession to give Stephens a 6-2 lead.
However, the reigning WTA Cincinnati champion managed to save three set points before finally succumbing to the pressure.
The Dutch turned things around in the second set after breaking her opponent's service on four occasions. She maintained a first service win rate of 72% throughout the set although; she failed to convert four set points in the penultimate game. Bertens ultimately had to break Stephens' service in the final game to take the set 6-2.
In the final set, however, Bertens appeared to be out of her game – something that has been seen with many players in Singapore at this point in the match. She committed as many as 18 unforced errors in comparison to her opponents' 7. She was broken thrice in the set to give Stephens a comfortable win.
Stephens is now up 2-0 in Singapore and has effectively got a seat in the semis. Bertens, on the other hand, needs to win her final game against Osaka with a good margin to stay in the competition.
As for Kerber, she faced some resistance from the current US Open champion. Even though she won the game 6-4, 5-7, 6-4, it was Osaka's lack of precision that brought her down.
The Japanese was remarkable throughout the match – she had six aces, a first serve win rate of 70% and as many as 42 winners in comparison to Kerber's 24. However, she had 50 unforced errors – 20 more than Kerber and managed to convert only five out of a possible 18 break points.
In the first set of the match, Osaka was up 40-0 at 5-4 on Kerber's service and had five break point chances to get back in the game. However, she eventually squandered that lead and gave the German the set.
At 0-2, Osaka is effectively out of the tournament, although she did have a stellar year.