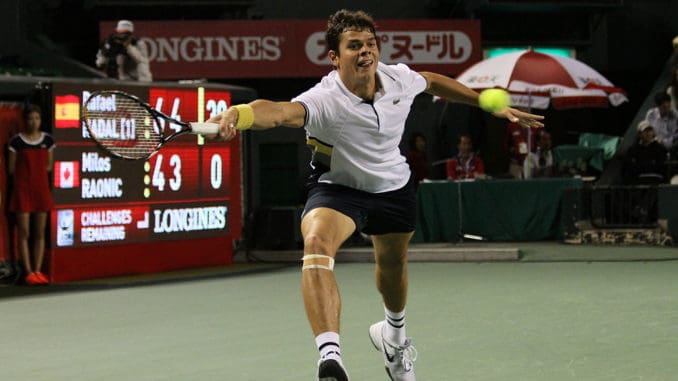 Former World No. 3 Milos Raonic defeated Jo-Wilfried Tsonga in his opening match in Paris to set up a second-round bout with the Swiss maestro Roger Federer.
In what turned out to be one of the most entertaining matches of the tournament so far, Raonic halted Tsonga's advance with 6-7(4), 7-6(5), 7-6(5). It took the Canadian two hours and 56 minutes to achieve this remarkable feat.
It is absolutely fair to say that the two players displayed a great deal of talent and determination in their opening round. They were even throughout the course of the match and Raonic was compelled to dig into his experience to see himself through.
At 5-4 in the first set, the 2018 Miami Masters quarterfinalist had an opportunity to take an important 1-0 lead in the match. However, Tsonga managed to save two set points to take the game into a tiebreaker. Once there, Raonic lost his service only once to have Tsonga win the set.
The two players continued to display such athleticism in the second set as well. Once again, the two players failed to break each other's service throughout the set. At 3-3, Raonic had another chance to break Tsonga's serve. However, the Frenchman was mighty determined as he saved three break points to stay in the match.
The set went into another tiebreaker and this time, it was Raonic who got the upper hand. However, he lost his service twice while squandering four set points before finally making the score 1-1.
The deciding set was along the same lines. The two players started off evenly with things most definitely heading towards another tiebreaker. At 5-4, however, the Canadian had one more chance – this time, to take the match – on Tsonga's service. But once again, the 2017 ATP Rotterdam winner saved two match points to stay in the competition.
Despite this remarkable performance, he failed to outperform Raonic in the tiebreaker. He lost his service twice to lose the set and consequently, the match.
Raonic will now face Roger Federer in what is set to be a repeat for the 2018 Mercedes Cup final. Back then, it was the Canadian won defeated the Swiss to win the tournament. This match, needless to mention, promises to be a thrilling affair.