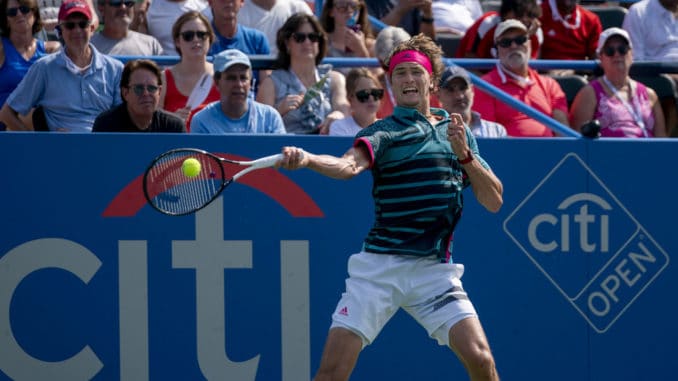 Novak Djokovic tasted a rare, straight-set defeat as he went down to Germany's Alexander Zverev in the final of the ATP World Tour Finals on Sunday.
Zverev recorded a stunning 6-4, 6-3 victory to announce himself as a serious contender in Grand Slam tennis come 2019. Having beaten Roger Federer in the semi-finals, he defeated Djokovic in a rather one-sided final to lift his first ever ATP Finals trophy in just his second appearance.
What was stunning for Djokovic was he had come into the match as a huge favourite, having won 36 service games in the entire tournament without dropping even once. In the final, he got broken as many as four times to concede an easy match to an opponent he had beaten in straight sets in the group stage of the tournament. Djokovic had dropped just five games the last time they played each other in the tournament.
The perfect end to an amazing season 🙌

Here's how it went down 👇

🎥: @TennisTV pic.twitter.com/sBHypdWXI2

— ATP World Tour (@ATPWorldTour) November 19, 2018
Zverev, who was booed by the London crowd after his semi-final win over Federer for stopping a point when the ball-boy mistakenly dropped a ball, had the fans in splits with his jokes and remarks at the end of the match as well to cap off a brilliant overall week.
He had earlier broken Djokovic at 4-4 before serving out three aces to close out the first set. In the second, he needed two tournament points to close out the match and finish the year on a high after having lost in round three at the Australian Open, Wimbledon and US Open. He had also entered the quarter-final at the French Open, which has been his best ever performance at a Grand Slam in his short career so far.
The German said after winning the title and a cash prize of £2 million:
"I'm unbelievably happy. Obviously it is the biggest title I have ever won. How I played today, how I won it, for me it's just amazing."
Djokovic admitted Zverev had played a lot better in the final than he had in the group stages of the competition and deserved to win the title.
Analysing the final, Djokovic also said:
"He had big serves. I wasn't returning well. I wasn't making him move too much. I was making way too many unforced errors. From 4-4 in the first set, my game fell apart. But if we put things in perspective it has been an amazing year and a great comeback."
Djokovic, however, said he looked forward to returning back in 2019 after a brilliant 2018 in which he won a multiple Masters titles and two Grand Slam victories, at Wimbledon and the US Open.