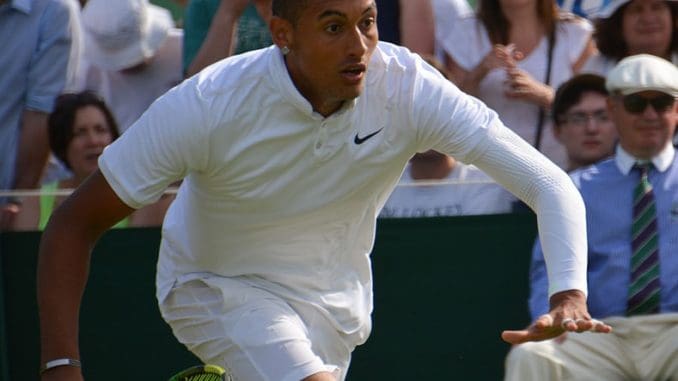 Both John McEnroe and Lleyton Hewitt want more from Australian tennis player Nick Kyrgios who they believe has a lot of talent but needs to show more hunger.
In a chat with an Australian show, 60 Minutes Programme, the former American legend McEnroe reckoned Kyrgios could end up killing his own career unless he changed things around drastically.
He said at the show:
"He's going to run himself out of the game at this point, which I don't want to see. But that's what's going to happen. It's as clear as day."
Incidentally, Kyrgios himself had recently announced he was taking professional help to try and fight the issues he had been facing. McEnroe, whose own reputation for being a brat on the circuit was very well-chronicled, had recently asked Kyrgos if he wanted him to mentor the Aussie but was turned down.
The two then met at the Laver Cup where McEnroe was the captain of Team World for whom Kyrgios also played. And McEnroe has had a lot of good things to say about him since then, calling him the most talented player in the tennis world in the previous decade.
Replying to the questions around the comparisons between him and Kyrgios, McEnroe said the huge difference was that he never stopped trying.
McEnroe said:
"I wish I did [understood Kyrgios] 'cos I like Nick and he'd be good for the sport (if he fully committed). Obviously it would be good for him. That it goes without saying. I think Nick's a really nice kid."
Incidentally, even Australia's Davis Cup captain Lleyton Hewitt warned Kyrgios it might not be too long before a new breed of players comes and takes over, citing the example of Alexander Zverev.
He said Kyrgios was potentially far ahead of Zverev two years ago but all that has changed with the German having recently won the ATP World Tour Finals, beating Novak Djokovic in the final.
Hewitt also said he was happy with Zverev taking professional help to also help him with the physical side of the game. Kyrgios has been beset with niggles and injuries in recent times that have made it a lot tougher for him and Hewitt said he hopes he would come back stronger in 2019.