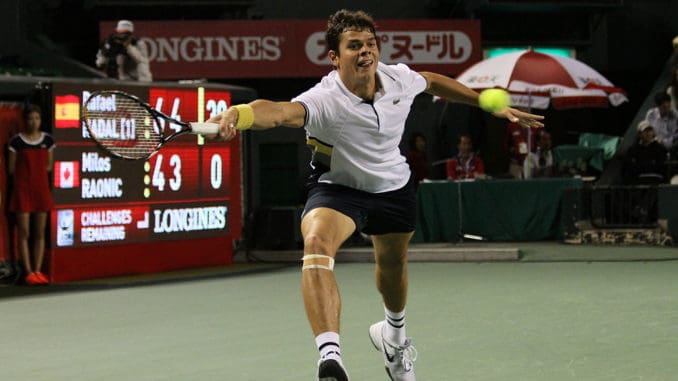 Milos Raonic v Phillip Kohlschreiber Live Streaming. This match will be played on Tuesday, February 12 and is scheduled to take place at 11.30 am local time (10.30 am BST).
Looking to watch (and bet) on the Milos Raonic v Phillip Kohlschreiber Live Streaming live streaming online? Go to Unibet > Tennis > Live Streaming here* .
*Geo-restrictions apply & pre-funded account needed
Milos Raonic v Phillip Kohlschreiber Head to Head
The players split their previous two meetings, with Kohlschreiber winning on clay and Raonic at the Australian Open. However, their last meeting was in 2013, and both have evolved differently since.
Raonic Looking to Return to Top 10 in ATP Rankings
After a strong 2016, where he was a top five ranked player and made the Wimbledon finals defeating Roger Federer, Canadian Milos Raonic has fallen off the radar somewhat since.
This has been due to a mix of injuries, indifferent form, and lacking a strong game to back up his powerful serve. Raonic has not won an ATP title since January 2016 at the ATP 250 in Brisbane.
On the other hand, 2019 has been off to a better start for the Canadian, with an Australian Open quarter final appearance defeating the likes of Nick Kyrgios, Stan Wawrinka and Alexander Zverev on the way. Raonic looked good for a semi-final showing, and will be disappointed at his quarter-final loss to Frenchman Lucas Pouille.
With the legendary Goran Ivanisevic on his coaching team now, Raonic's powerful serve has been consistenly destructive of late, backed by a more solidified all-round game. Currently at world number 14 in the ATP rankings, Raonic will look to play a consistent season ahead, and be a contender again at major tournaments.
The Rotterdam draw remains a difficult one for many, with Raonic set for a second round matchup potentially against Stanislas Wawrinka if he wins his opener. However, with renewed belief in his powerful game, the Canadian will look to use the indoor hard courts to his benefit.
Kohlschreiber Seeks To Regain Lost Consistency
German Phillip Kohlschreiber, although 35 years of age now, has been consistent on the tour for years on end. Currently ranked number 32 on the tour, he has been ranked as high as number 16. The German has been a challenging opponent for all throughout his career.
After an injury plagued 2017, Kohlschreiber made a revival of sorts in 2018, finishing runner-up to Alexander Zverev in Munich and making the quarterfinals at the Indian Wells Masters and the fourth round of the US Open. The German made the semifinals at the ATP 250 in Auckland prior to the Australian Open, but had a disappointing early loss at the first major of the year thereafter. He also lost in the first round at the ATP Montpellier 250 last week.
Kohlschreiber in recent years has had mixed form at the Rotterdam ATP 500, partly due to running into eventual champions early on in the draw, in both 2017, and 2018. Despite being a consistent name on the tour, indoor hard courts have not been his favorite surface particularly, with no titles and only one runner-up appearance.
That being said, with a gritty approach, strong return and good court coverage, Kohlschreiber can never be counted out by any.
Milos Raonic v Phillip Kohlschreiber Predictions & Tips
The deciding factor will be how Kohlschreiber tackles the Raonic serve, which is more likely than not expected to click.
If Raonic can keep his recently developed groundstrokes at the level they were at the Australian Open, this will be a difficult match for the German.
We expect a good tussle with both looking to go deep in the draw. Eventually, Raonic will prove to be too strong for the German and expect him to win in two well-fought sets. Over 22.5 games in the match with bet365 offering 10/11 for it.
You can watch & bet on Raonic v Kohlschreiber on Tuesday, February 12. The match will be held from 11.30 am local time (or 10.30 am BST).