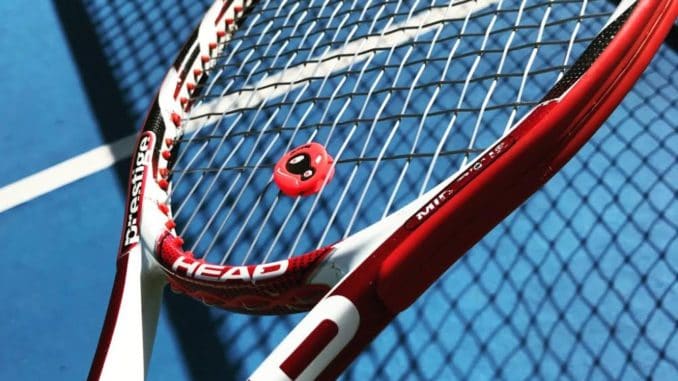 This is a guest blog-post by tennis racquets specialist Jonas Eriksson on the kind of tennis racquets that pro tennis players use while playing.
Also Read:
Most tennis fans are not too bothered about tennis gear and what racquets the pro players use. They enjoy watching tennis live or on TV, but have no idea about the meticulous work that goes into preparing racquets for the players on the ATP world tour.
A professional tennis player does not go to the store and buy a racquet like you and me. Instead, the racquet manufacturer (assuming they have a sponsorship contract, where in many cases they get paid to play with certain racquets), sends x number of racquets a couple of times during the year.
The player might get somewhere between 30-50 racquets during a year from companies such as Babolat, Wilson, HEAD or Yonex. Either the company customizes the racquets for the player, which means adding lead tape to make sure that each racquet has the same weight, balance and swing weight or for example adjusting the handle shape and size for that particular player.
It is actually rare that a professional player uses the racquet he endorses. Pro players usually stay with the same racquet for many years and perhaps tweaks the weight and balance a little or tries a new string or string combination, but the manufacturers wants us to believe that a player switches racquets every two years when a new edition of a racquet line is released.
Instead the racquet company paints the pro player racquets to look like the latest model from the company, but what is really underneath the paint can be a racquet that they have used for 10-15 years.
Multiple French Open winner, Rafael Nadal, for example, uses the Babolat Aero Pro Drive Original, which is the first version of the Babolat Aero Pro Drive that came out in 2005.
However, they paint his racquets to look like the latest Pure Aero, which shares some similarities with the Aero Pro Drive Original, but is quite different in feel. Babolat customizes Nadal's racquets for him and adds lead tape to get the racquet up to around 340 grams strung, while the Pure Aero you buy in the store is around 320 grams strung. Babolat and Nadal is not the worst case of "racquet deception".
Former Wimbledon champion, Andy Murray for example, plays with a very different racquet than he endorses.
He has been endorsing the HEAD Radical line in various iterations for many, many years, but has all along been playing a racquet model that is more than twenty years old and that was never available to the public in the string pattern he uses.
The racquet is called HEAD Pro Tour 630 (280 in the US) and goes by the name of PT57A in pro racquet lingo (this is called a pro stock code). This racquet is heavy, flexible, low-powered and nothing really like the HEAD Graphene Radicals that are advertised and sold in stores today.
Why do the racquet manufacturers do this?
To sell more tennis racquets to these beginners of course! There is also the idea that recreational tennis players won't play their best tennis using the kind of racquets that the professional use, but in the case of multiple Grand Slam champion Roger Federer for example, Wilson decided to release the actual racquet and specifications he uses to the tennis playing population and that is probably the biggest bestseller in Wilson's history.
And many recreational players swear by this racquet, despite it being quite heavy and demanding to play with.
Other than the racquets being customized and matched and older models than what is actually advertised, there is actually nothing magical about pro player racquets. They are just fine-tuned to suit their game, something any ambitious player can do on their own with their racquets.
Playing with a so called pro stock racquet will not make you into a better tennis player. You need to find the racquet that works for your game and experiment a bit with it to see what string you should use, whether you need to add weight, what kind of grip you should have on, etc. These things actually make a difference to tennis players who want to improve their results and look at a list of factors here to help you understand the factors to consider before buying a racquet.
If this sounds like an interesting topic to you or you just want to find out what racquet suits you the best, check out Tennisnerd.net.