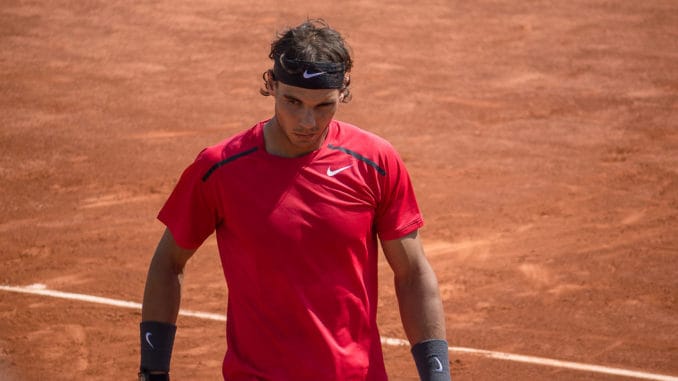 As we get to around the mid-way point or thereabouts of the clay court season, we also get to what could be considered the 'business-end' of the season. With a Masters 1000, an ATP 500 and a few ATP 250s behind us, the month of May will see two back-to-back ATP Masters 1000s (Madrid and Rome), and the second major of the year, the French Open.
The first few weeks of the clay court season have been as unpredictable and can be. It is difficult to say that we are seeing any trends, apart from the fact that the trend has become to expect the unexpected. The clay court season was billed as the clash between the top two players in the world, Novak Djokovic and Rafael Nadal.
Thus far, it has been anything but that.
Nadal, who was looking at unprecedented 12th titles at each of Monte Carlo (ATP 1000) and Barcelona (ATP 500), bowed out in the semi-finals of both to the eventual winners, Fabio Fognini and Dominic Thiem respectively.
World number one Novak Djokovic, who looked unimpressive at the Sunshine Masters, bowed out in the quarter finals of the Monte Carlo Masters 1000 and continues to look a shadow of the player he was for the last three Grand Slams.
None of the 'Next Gen' has particularly impressed on clay yet, barring Daniil Medvedev who has been consistent throughout 2019.
A semi-final showing at Monte Carlo and a finalist at Barcelona continued the trend. The biggest disappointment thus far has been Alexander Zverev, who came into 2019 with a lot of expectations. It has been a disappointing year for the German with continued early losses and the clay season has been no better.
Defending champion at the Madrid Masters, and finalist at Rome, Zverev will be looking to change the tide imminently.
Dominic Thiem, billed to be Nadal's successor on clay, was off-color at Monte Carlo, but displayed excellent form to win the Barcelona title and defeated Nadal in straight sets in the semi-finals.
A lot is expected of Thiem for the rest of the clay season. Among other forces on clay, Kei Nishikori has impressed in parts, along with Roberto Bautista Agut, and Fabio Fognini definitely has, winning the ATP Masters 1000 at Monte Carlo.
The biggest news ahead of the Madrid Masters 1000 is the return of Swiss maestro Roger Federer to the clay after a three year hiatus. Federer has given enough indication this year there is still enough strength in those legs to take on and defeat the best but as he has himself admitted, it's going to be baby steps for him right now.
Here're the potential paths to the final for each of these top players at the Madrid Masters.
Novak Djokovic's Proposed Path:
1st Round: Bye
2nd Round: Dimitrov
3rd Round: Schwartzman/Cecchinato
Quarter-Final: Cilic/Kyrgios/del Potro
Semi-Final: Federer/Thiem
Final: Nadal/Zverev
Rafael Nadal's Proposed Path
1st Round: Bye
2nd Round: Shapovalov/Auger-Aliassime
3rd Round: Basilashvili/Tiafoe
Quarter-Final: Medvedev/Nishikori
Semi-Final: Tsitsipas/Zverev
Final: Djokovic/Federer
Roger Federer's Proposed Path
1st Round: Bye
2nd Round: Gasquet
3rd Round: Goffin/Monfils
Quarter-Final: Fognini/Thiem
Semi-Final: Djokovic/del Potro
Final: Zverev/Nadal
Alexander Zverev's Proposed Path
1st Round: Bye
2nd Round: Ferrer/Bautista-Agut
3rd Round: Coric
Quarter-Final: Khachanov/Tsitsipas
Semi-Final: Nishikori/Nadal
Final: Djokovic/Federer