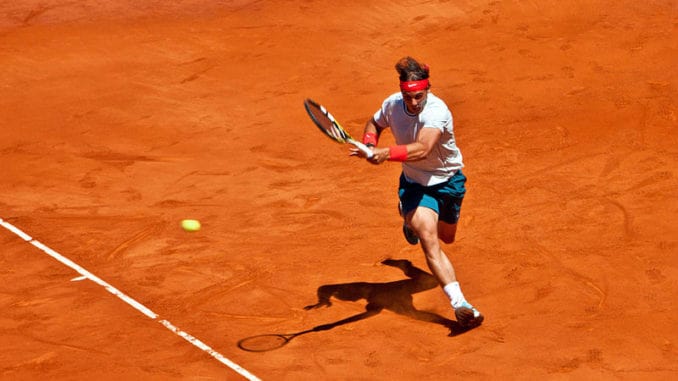 The number two seed Rafael Nadal will play the number three seed Roger Federer in the semi-final of this year's French Open on Thursday, June 6. Nadal currently leads their head-to-head series by 23 matches to 16, principally because of his superiority on clay, where he has claimed 14 wins to just 2 for the Swiss. However, Federer has won their last five matches, all played on hard courts.
Here is what happened in those last five match-ups.
Shanghai Masters Final 2017 – Federer wins 6-3, 6-4
Federer produced a serving master class on the lightening quick courts of Shanghai to win his second title there. He broke Nadal in his opening service game, and, so dominant was his serve, that he surrendered only eight points on it in the entirety of the match.
A solitary break of the service in the second was enough to win the match, but, on the day, Nadal was outplayed and outclassed.
Miami Masters Final 2017 – Federer wins 6-3, 6-4
Federer won his third Miami Masters titles with a straight sets win over his historic rival, who was hampered by injury during the match. The first set was tight, with few opportunities to break for either man until the eighth game when the Swiss managed to convert his third break point, before serving out the set.
At four-all in the second set, a net cord and then an unforced error allowed Federer to break again, and, despite a double fault in his next service game, Federer held his nerve to clinch the match.
Unusally these two met as early as the round of sixteen in Indian Wells with Federer winning their encounter in just 68 minutes. Federer broke Nadal in his opening service game, and he would go on to break the Spaniard on three more occasions during the match.
For his own part, Federer faced just one break point on his own serve during the encounter, but he managed to save it with a big booming serve of his own. The fact that Federer produced 26 winners tells its own story.
Australian Open Final 2017 – Federer wins 6-4, 3-6, 6-1, 3-6, 6-3
This was a remarkable match for the Swiss player for a number of reasons. It not only gave him a 20th Grand Slam title, but it also marked the first time that Federer had beaten the Spaniard in a Grand Slam event outside of Wimbledon.
And he did it the hard way too. Federer won the first set, only for Nadal to bounce right back and take the second. In his opening game in the third set, Federer faced three break points, but saved them all with three successive aces.
He would go on to clinch the set. Again Nadal fought back to take the fourth set, and went 3-1 up in the fifth set, only for Federer to reel off five straight games to take the set and the match in a little over three and a half hours.
Basel Open Final 2015 – Federer wins 6-3, 5-7, 6-3
Federer snapped a three and a half year losing streak against Nadal to win the seventh title in his home town event. Having traded breaks early in the first set, Federer was the first to make a decisive move, breaking Nadal again and going on to serve out the set. The pair traded blows in the second set, but, at 6-5, an unforced error from Federer gave Nadal the chance to level things up.
It would, however, be Federer who seized the vital break in the eighth game of the third set, and he went on to clinch the match and the title.
Who will it be this time?