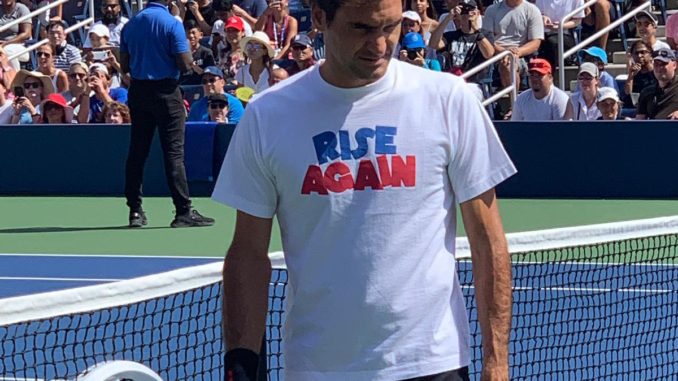 Roger Federer's shock defeat in the 2019 US Open quarter-final has led to a lot of chat on social media about the match. Here's a look at what fans are saying about the injury-fuelled loss at the hands of Grigor Dimitrov.
Some remembering that match against John Millman last year, as one would expect.
Nightmare for Federer. Not too different from the Millman match. A lot of shanking, a lot of errors. Totally unexpected after two great matches in R3 and R4.

It was the same story last year. Great match vs Kyrgios and then…

— José Morgado (@josemorgado) September 4, 2019
Of course, tennis is a sport of glorious uncertainties.
Dimitrov arrived the #USOpen with one win in his 8 previous matches. Ranked #78. Started on Court 11.

Tennis.

[getty] pic.twitter.com/GTfFH1TSQH

— José Morgado (@josemorgado) September 4, 2019
Federer had his chances in the fourth set, had a chance to break back and not allow it to get to the final set. Missed it.
Omg. I'm sad. Pity Roger Federer couldn't do in four sets, because the opportunities were there. Oh boy, tennis has twists and turns #USOpen

— Sandy Burke (@_Burky) September 4, 2019
Of course, Federer fans were happy that unlike Djokovic, he completed the match despite his injury.
Federer finishing match less than 100% unlike Djokovic…RF has NEVER retired from a match – why RF is the 🐐 💯

— James Parr (@JamesParr24) September 4, 2019
A fan with his view of the upset:
Sitting in Ashe watching Grigor complete the upset😮 pic.twitter.com/bLCaisQaUP

— MACIII (@MACarte47856342) September 4, 2019
In case anyone had any doubts though.
federer is still the best tennis player of all time

— Chargers 1-0 (@GoatPhilip) September 4, 2019
Speaking of Dimitrov's poor showing till before this US Open. To say that he was struggling is an understatement.
Grigor Dimitrov played a full schedule 20 tournaments last year, compiled a 16-18 record, fell 70 spots from 8 to 78th, lost to the #405 about 6 weeks ago.

Now he's in the US Open semis after beating Roger Federer. What a turnaround.

— Tumaini Carayol (@tumcarayol) September 4, 2019
Of course, there is always a stunning stat when both Federer and Djokovic, in the same half of the draw, don't make a Grand Slam semi-final.
This is the first time since the 2005 Australian Open that both Roger Federer and Novak Djokovic were in the same half of a hardcourt Slam and neither reached the final.

Marat Safin beat Federer in an epic semi after routing a 17 year old Djokovic in the first round. #USOpen

— Trenton Jocz (@TrentonJocz) September 4, 2019
Some neutral fans are just unhappy they woke up to champions struggling with injury issues.
Two days I wake up to two champions struggling with fitness in the final set of their match and losing their respective matches. #USOpen

— Suneer (@suneerchowdhary) September 4, 2019
This is for fans who question any player's sportsmanship:
I don't get what some "tennis fans" need. A player clearly struggling came out and finishes the match knowing that there wasn't much he could do and takes nothing away from his opponent. How much more sportsmanship do you need? 🙄

— Dr Aditi (@adi_singh18) September 4, 2019
Meanwhile away from the courts, some fans aren't exactly big fans of John McEnroe's commentating.
Why does it have to be Federer'a back that's injured and not John McEnroe's vocal cords?

— Sean Kent (@seankent) September 4, 2019
Purple, it is.
Purple, the official colour of #USOpen!
pic.twitter.com/EM7p3cxezy

— Monica (@monicas004) September 4, 2019