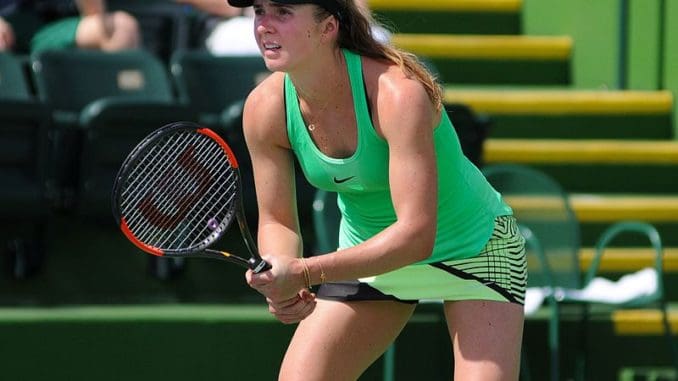 Bianca Andreescu joined a list of first-time Grand Slam winners on the WTA circuit at the US Open. Here we look at the next potential first-time Grand Slam champion.
The WTA tour has been extremely competitive this year, all four Grand Slams have been won by four different players and the world number one ranking has changed hands five times throughout the season.
The Australian Open winner Naomi Osaka and the Wimbledon winner Simona Halep both only won their first-ever Grand Slams in 2018. On the other two occasions, we had a first time Grand Slam champion in Ashleigh Barty at the French Open & most recently Bianca Andreescu winning the US Open.
This just shows the sheer depth of the competition around and with the likes of Serena Williams still going strong and Petra Kvitova & Karolina Pilskova also around, the coming season promises to be an exciting one as well.
Once again we may see another first time Grand Slam Champion and here are four players that according to us are most likely to be one of those!
Elina Svitolina
Elina Svitolina became the first-ever Ukrainian woman to enter the top 10 in the world rankings. She came to spotlight in 2015 when just at the age of 20, she reached the quarter-finals at the French Open, eventually losing to Ana Ivanovic.
Since then she has won 13 titles and her stock has risen consistently. A very solid, defensive baseline player, Elina's game is revolved around minimizing her errors and grinding her opponent down. Her serve was considered to be a weakness in her game and that consistently hampered her on many big occasions in the past.
But she has worked hard on that part of the game and she was one of the leaders of service points won in 2018 and this has resulted in a marked improvement in her showings during the later stages of tournaments. She won four titles last season including the WTA Finals and this season has reached the semi-finals at the US Open & the Wimbledon as well as the last eight at the Australian Open.
Currently ranked number three in the world, her next challenge for her is to improve her forehand & add more power to her game which will surely help her in winning more titles in the coming season.

Belinda Bencic
Considered to be a prodigy in her age group, the Swiss-born Bencic has Slovak parents and from very early in her playing career, comparisons were made with another Swiss-Slovak former player, Martina Hingis.
Trained by Hingis's mother, Bencic was a junior French Open & Wimbledon champion and at the age of just 17, she broke into the world's top 100 rankings. She became the youngest quarter-finalist at the US Open since Martina Hingis & at the age of just 18, she was already a top 10 player.
A wrist injury kept her out of action for almost six months in 2017 & she struggled to fully recover from it for almost another year, while her rankings also dropped outside the top 300. But she has made a strong come back since then and started 2019 strongly with semi-final appearances at Hobart and Indian Wells before winning her first title in two years in Dubai.
She also performed well at Madrid where she reached the last four and at Mallorca where she lost to Sofia Kenin of the USA in the final. At the US Open, her dream run came to an end in the semi-finals at the hands of eventual champion Bianca Andreescu.
Bencic is known to be one of the smartest players on the tour in terms of game management and has a very versatile game with powerful groundstrokes, clever use of lobs & drop shots and a very powerful return to serve. Next year she will be looking to build on the solid year she has had and would be hoping to add more titles to her name.

Johanna Konta
A surprise name on the list of the next first-time Grand Slam champion would be Johanna Konta, British number one and world number 11, Konta represented Australia till 2012 before she gained British Citizenship. She has played over 700 matches in her career and has been one of the most consistent performers on the tour in the last few years.
Now 28, Konta had her best year in terms of Grand Slam results in 2019. She reached the semi-finals at the French Open and made it to the last eight at the Australian Open and the Wimbledon. She also reached the finals twice this year, once at Rabat in Morrocco and second in Rome but lost on both the events.
Her playing style is very offensive and she has a very powerful serve and prefers to play the game from the baseline.
She has often been criticized for lacking the cutting edge & mental toughness to win big in the matches. But since changing her support staff and especially bringing in Dimitri Zavioloff as her coach, her overall game has improved and she uses the net and the drop shots to a much better effect.
Sofia Kenin
2019 has been a breakout year for the 20 years old American, Sofia Kenin. In four years before this year, she had played 21 tournaments in total, failing to reach the finals in any of them. In 2019, she has played in 17 tournaments, reaching five finals out of which she won two of them – at Mallorca & Hobart and also reached the semi-finals at the Canadian Open & Cincinnati Open, both in the Premier 5 category tournaments.
Known for grinding out the long rallies and as someone with no real weakness in her game, Kenin has a powerful range of groundstrokes both from forehands and backhands.
For someone who has been outside of the top 50 players for most parts of her career, she has a very impressive record against the world's top 10 and is a bit of "Giant Killer" when it comes to playing big names.
In 2019, she has got the better of the world number one player on four different occasions. Her next target would be to break into the top 10 in the women's world ranking and with that get more favorable draws allowing her a better shot at making deeper runs at Grand Slams.
There have been 10 different Grand Slam winners in the last three years with only Naomi Osaka & Simona Halep being able to win more than one Grand Slam during this period. 2020 promises to be another fiercely contested year on the WTA tour and with a host of promising and talented players around, we may not have too much longer before we see out next first time Grand Slam winner!