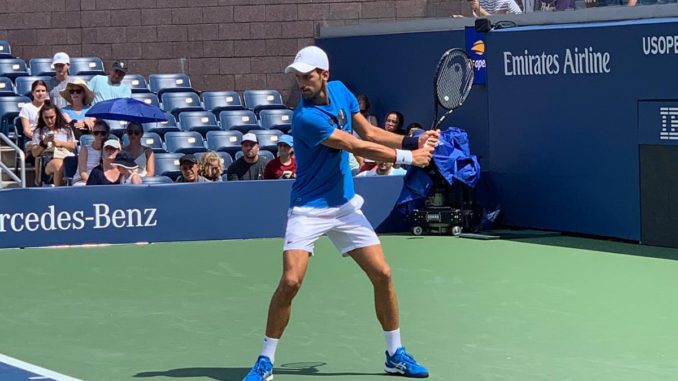 The inaugural ATP Cup will be taking place in January next year. Three cities in Australia will hold the tournament from 3 January to 12 January. Brisbane, Perth and Sydney will each be hosting the initial group stage of the event. Which are some of the most exciting matches to watch out come the 2020 ATP Cup?
The ATP Cup will have 24 nations participating in the event, with the teams divided into six groups. On Monday the 19 countries that are already confirmed were divided into six groups while the remaining five countries will join in by 13 November. The event will offer up 750 ATP points as well as AUD $22 million, and will see at least 27 of the top 30 players in the world battle it out for the honours.
So which are the nations and players taking part in the event? Let's take a look at the groups and some of the most exciting match-ups we will get to see in January.
Brisbane: Group A and F
Brisbane will host Group A and F at the Pat Rafter Arena. The top seeded nation of Serbia, led by the world No. 1 Novak Djokovic alongside Dusan Lajovic as leading singles players face France, who are to be led by Gael Monfils and Benoit Paire. South Africa, led by Kevin Anderson and Lloyd Harris, will be joined by another nation in Group A.
Group F includes the nations of Germany, Greece, Canada and Australia. This makes for some exciting matches to follow. Germany have Alexander Zverev and Jan-Lennard Struff, Greece have Stefanos Tsitsipas and Michail Pervolarakis, Canada have Felix Auger-Aliassime and Milos Raonic, and Australia have Nick Kyrgios and Alex de Minaur leading their ranks.
These two groups include some high-profile players that are bound to play out some lip-smacking matches.
Djokovic vs Anderson
Group A sees Serbia face South Africa, France and one more country to be announced soon. This means we can expect Djokovic to face Anderson, a repeat of last year's Wimbledon final. The two have faced-off 10 times before, with Anderson managing to win just two of those encounters. Both players have suffered some injury problems in recent times and will be hoping to make a positive start to the new season, leading up to the Australian Open.
You can also expect to see Djokovic face Monfils in Group A. This always makes for a wonderful showing, even though Monfils has never beaten the Serbian.
Zverev vs Tsitsipas
Group F will pit Germany against Greece, meaning we can expect to see Zverev play Tsitsipas. The two young players are touted to be the next superstars of the sport. Both are already establishing themselves among the best in the world and it will make for a very exciting match-up.
The pair have played thrice before with Tsitsipas winning the last two matches. Zverev has had a disappointing season this year and will be looking to start off the new season with a bang. Tsitsipas on the other hand had a very good season and will be hoping to continue his rise in the sport.
Zverev vs Kyrgios
Group F also includes Australia, which means Zverev will also face Nick Kyrgios. The two have a very tight record against one another, having played seven times before. Kyrgios shades the head-to-head with four wins to Zverev's three.
Kyrgios won their last match on hard court in Acapulco this year and will be looking to win again in front of the Australian crowd. Zverev is no doubt desperate to banish this year's demons and get off to a winning start before the first slam of the season.
Perth: Group B and D
Perth hosts Group B and D, in which Group B includes Spain- Rafael Nadal and Roberto Bautista Agut, Japan- Kei Nishikori and Yoshihito Nishioka, Georgia- Nikoloz Basilashvili and Aleksandre Metreveli and another country to be announced later.
Group D features Russia- Daniil Medvedev and Karen Khachanov, Italy- Fabio Fognini and Matteo Berrettini, USA- John Isner and Taylor Fritz and one another country.
Russia will certainly be the favourites to go through with the in-form Medvedev leading their ranks.
Nadal vs Nishikori
Rafael Nadal will obviously be the player to watch out for in Group B. He will face Nishikori of Japan in the group stage, which will make for an exciting match. Nadal has a comprehensive lead against Nishikori, having won 11 of the 13 matches they have played. However, Nishikori can take some confidence from the fact that the last time they played on a hard-court at the Rio de Janeiro Olympic Games, he beat the Spaniard to take the Bronze medal.
Nadal though is the favourite and is in some sensational form having just lifted his 19th Grand Slam at the US Open.
Medvedev vs Fognini
Group D includes Russia and Italy, which means Medvedev is bound to face Italy's Fognini. Medvedev is the most in-form player on tour at the moment. He will surely be confident of beating anyone he faces, especially on hard-courts. He has faced Fognini twice in his career with both players splitting a win. The Russian won their last match in 2018 in Sydney, Australia in three sets.
Fognini though is one of the most unpredictable players around, and it will be folly to write him off just yet. On his day, he has the ability to beat just about anyone.
Sydney: Group C and E
The Ken Rosewall Arena in Sydney will host Groups C and E. Group C includes the nations of Switzerland- Roger Federer and Henri Laaksonen, Belgium- David Goffin and Steven Darcis, Great Britain- Andy Murray and Kyle Edmund and another country.
Group E includes Austria- Dominic Thiem and Dennis Novak, Croatia- Borna Coric and Marin Cilic, Argentina- Diego Schwartzman and Guido Pella and another country.
Group C certainly jumps out with the Swiss great Federer in the ame group as Britain's Murray.
Federer vs Murray
The most exciting clash in Group C is without a doubt the clash between the two greats. Two of the "big four" will probably face-off in the match-up between Switzerland and Britain. This is a very tightly contested rivalry. The two have faced one another 25 times before with Federer winning 14 and Murray 11 of those clashes.
While Murray is not in the best of shape right now, he is certainly taking huge strides in the right direction. After having to think about retirement due to his hip problems, he has bounced back with hip-replacement surgery and is now looking to get back to his best. Federer is, as always, in good touch, but did have some back problems in the US Open defeat to Grigor Dimitrov.
Murray vs Goffin
Murray vs Goffin is another exciting match to look forward to in Group C. Murray has won all six matches the pair have played. However, Goffin will be hoping that Murray's recent issues will give him his best chance to beat the Briton. Goffin was often touted to be amongst the very best in the world from his younger days, but it is safe to say he has not been able to live up to those expectations. He will be hoping to bring some glory to Belgium with a good start to the season.
Group E also features some in-form players that will face one another.
Thiem vs Coric
Austria's Thiem will be leading the line for his country and might face Croatia's Coric. The two are good players on the hard-court and will make for a good match. The pair have played four times before, with Thiem leading with three victories. While Thiem won the last match in Paris Masters on indoor hard-court, Coric won the last time they played on outdoor hard-court in Miami Masters.
Thiem vs Schwartzman
Thiem may also face Schwartzman of Argentina in the group stage singles. Both are wonderful strikers of the ball and will play out a good competitive match. Thiem has not fared as well as he would have liked since Roland Garros, where he made the finals. His grass-court season and hard-court season did not live up to expectations by his standards. He lost to Fabbiano of Italy in the very first round of the US Open and will be looking to get back on track in the ATP Cup for the Australian Open and the new season.
Schwartzman on the other hand has been in good form in recent weeks. He made the quarter-finals of the US Open, beating Zverev in the round of 16 in four sets. He lost to Nadal in the quarters.
The two have met six times in their careers, with Thiem leading with four wins. The two met twice this year, both times on clay and splitting the two matches between them. The Argentine won the last time they played on hard-court back in 2017 at the Canada Masters.
Cilic vs Schwartzman
We might also get to see the Argentine play Marin CIlic of Croatia. The former US Open champion has not had the best of years, but he did make the round of 16 at the US Open only to lose to Nadal. Cilic has faced Schwartzman four times, with both players winning two matches each. Schwartzman won the clash between the two this year at Queen's Club event, while Cilic won the last hard-court match last year at the Canada Masters.
Cilic vs Thiem
Cilic vs Thiem is another potential match-up that could be played. While Thiem has not lost to Cilic in the two matches they have played, he is not in the best of forms. Cilic can certainly hope to take advantage of that and get his first victory over the Austrian. The stacks are against Cilic as both the matches they have played were on hard-courts, with the latest one taking place just this year at the Canada Masters.
These are just some of the potential clashes we can expect to see in the group stage of the maiden ATP Cup. There will be further more matches to look for as the event progresses, and these are just the singles matches we are talking about. Eight nations will advance from the initial 24 teams, with the next stage of the event taking place in Sydney.
There are still five spots left to be filled in the 24-team event. This will make for even more good match-ups in the group stage itself. The event will continue until its conclusion on the 12th of January.