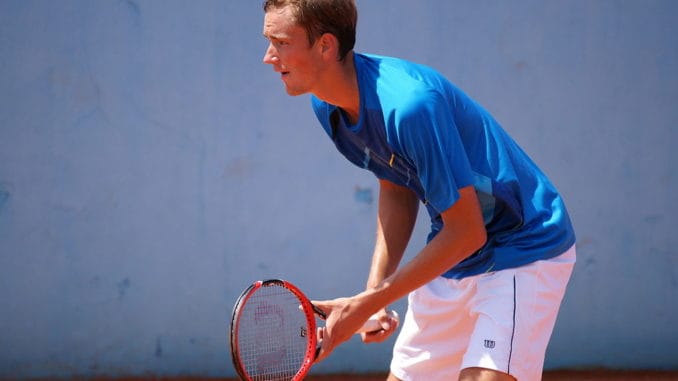 Daniil Medvedev has made a blistering start to the Shanghai Masters following his stunning run before that but he has his feet firmly grounded.
Youngster Daniil Medvedev has stunned the world this year with an incredible season. He reached the finals of the last five tournaments he played winning the Cincinnati Masters and the St. Petersburg Open. In addition to the two, Medvedev also won the Sofia Open to achieve a total of three titles this year.
Even world number one Novak Djokovic has been suitably impressed saying he had been playing the tennis of his life over the last few months. Djokovic previously lost to Medvedev in the semi-finals at the Cincinnati Masters.
Also Read:
The Russian reached his current and a career-high ranking of 4 last month after beginning the season with a rank of 16. He has already qualified for the ATP Finals at the O2 next month.
At the Shanghai Masters, the young hopeful will aim to grab his fourth title of the year as breezed past Cameron Norrie in his second round in straight sets match 6-3, 6-1. Medvedev played exceptionally well, never giving Norrie a chance to break his momentum.
Medvedev will face Canadian Vasek Pospisil in the round of sixteen match in Shanghai. The two have never faced each other before.
Given the momentum at which he has been playing, it is foreseeable that Medvedev will make it to his sixth consecutive finals this year. However, to do that, he might have to overcome Djokovic and that might not be the easiest task despite all that has gone around the Serb number one in recent times.
And despite his incredible run, Medvedev has remained humble about his winning streak.
He said:
"I don't feel invincible, because I still lost some matches."
Speaking of his first round win, he added:
"It was a great match. As I say, it's never easy to play a qualifier. I'm trying my best to keep the form I have. It's really not easy, because as soon as you relax a little bit, the results will start to fall."

"That's why I'm trying not to relax. I'm practising as hard as I can and playing my best in the tournaments also."