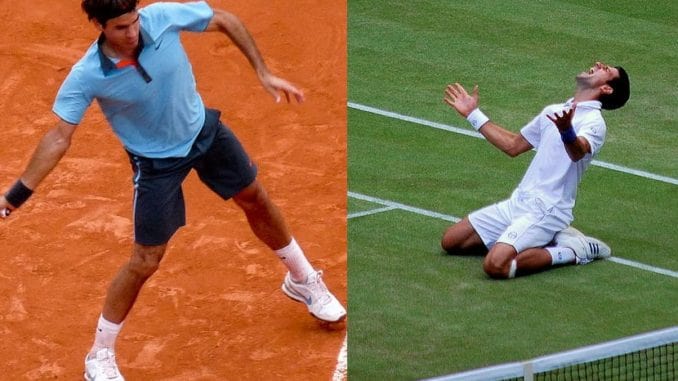 Novk Djokovic and Roger Federer have played each other four times at the Australian Open before their clash in the 2020 edition of the tournament. Here's more on how those matches went.
The men's singles semi-final at the 2020 Australian Open is coming up on Thursday, with Novak Djokovic and Roger Federer clashing in what will be a much-awaited clash. Both should be ready, determined and extremely focused. They've both proved their worth in this extraordinary 2020 Australian Open, as they always do but in their own way and with some of the finest and most competitive tennis seen in the tournament, it should be an interesting match-up.
To be a truly successful championship tennis player you need to have determination, grit, stamina, style, intense focus and most importantly, that competitive edge; the need to win above all else. The greatest tennis players in the world have all of that, and one more thing.
A strength of will.
This strength of will is what has resulted in some of the most exciting games between these two brilliant tennis stars, Djokovic and Federer, and tennis fans worldwide on the edge of their seats, ready for this 2020 Australian Open semifinal.
We're going to take a look at Djokovic and Federer, and their intense rivalry at the Australian Open. They've come against each other 49 times, and they are about to come across one another at the 2020 Australian Open, which will also be their fifth match at this major.
Let's take a look at their previous encounters at the Australian Open, which for anyone who watched these last four matches (or any of the Federer / Djokovic matches) will know exactly how spectacular they are, and will be waiting, with bated breath for the fifth. These are two fiery, talented players and if you ask each one of them right now if they are going to win, both will say yes. And believe it.
2016 Australian Open, Semi-Final
Djokovic won three sets to one with the final score reading 6-1, 6-2, 3-6, 6-3.
If you look at the sets and the result of each one, they look fairly undramatic but in fact, the drama was all there! Each set was fast and the speed of the game was pretty incredible. The crowd was on Federer's side as one would expect.
People have likened Djokovic's tennis in these first two sets as near perfect and in the end he proved to be too masterful for Federer. Djokovic went on to win the Australian Open finals, beating Andy Murray.
2011 Australian Open, Semi-Final
Djokovic won this match too, 7-6, 7-5 6-4.
This was an exhausting and incredible game to watch, and while it was 'just' a three-set semi-final, the tension, the level of tennis, the competition and the drive was quite extraordinary. Each set proved to be a nail biter.
The total match lasted three hours, so even though it was just three sets, they were incredible and close sets. Djokovic went on to win the 2011 Australian Open, for a second time, playing Andy Murray in the final again.
2008 Australian Open, Semi-Final
Another Djokovic win, with the score reading 7-6, 6-3, 7-6. Federer fought back all the way and the audience certainly got their money's worth. It's also fair to say, as at most Australian Open tournaments, the crowd was on Federer's side.
They clapped wildly for each point Federer won, being a lot more subdued with the Djokovic wins.
This was also a career-defining match for Djokovic, one where tennis lovers really started paying attention to the sports star. Djokovic went on to play tennis wonder Jo-Wilfried Tsonga and won the final.
2007 Australian Open, Round 16
Federer won this match 6-2, 7-5, 6-3 and this has remained his only victory over Djokovic in Melbourne.
It was a fourth round match, and a brilliant game for the two tennis greats and one of the things a commentator said during the match was: "What a a real privilege to watch this player." His comment was aimed at Federer, perhaps with a little favouritism but tennis fans have adored Federer since the start of his career and he has been the darling of men's tennis for a long time!
Federer went on to win the finals, beating Fernando González in the final.
Both players push each other to excellence and despite the intense rivalry, which is what makes them such brilliant players to watch, they are both grateful and privileged to share the court with one another.
That said, the game of tennis is not just physical; it is a mind game in so many ways, and it would be interesting to see how Djokovic uses the edge from the Wimbledon 2019 final to score over Federer. The Swiss maestro has show grit and determination to win in this tournament but is he fully fit?
Bring on Thursday.