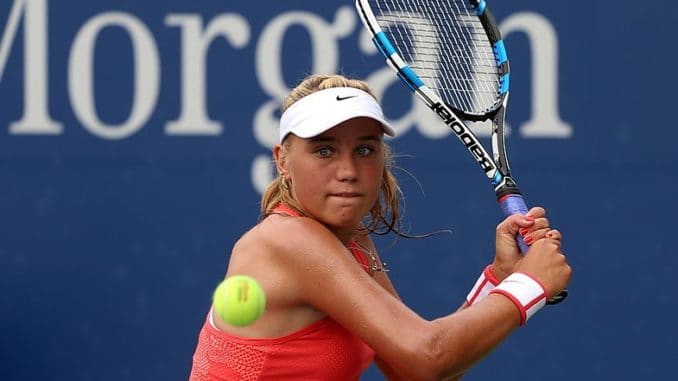 Sofia Kenin came back from a set down to upset two-time Grand Slam winner Garbine Muguruza in the Australian Open 2020 final.
USA's 14th seeded Kenin won 4-6, 6-2, 6-2 to continue her brilliant run from the previous season that had seen her win three WTA titles. Kenin, who was outside the top 100 as recently as two years ago, ran off a winner against a player who was unseeded coming into the tournament but a bookmakers' favourite to win this given her historical record and pedigree.
However, Kenin shrugged off the loss of the first set in style to go on to win the title by breaking Muguruza multiple times in the last two sets. In doing so, Kenin became the youngest women's singles winner in Melbourne since Maria Sharapova's victory in 2008.
Muguruza was the first off the blocks, breaking Kenin in the third game of the opening set despite being 40-30 down at one stage. The Spaniard had two break-points saved but broke her opponent on the third to go 2-1 up.
Things went on serve till 4-3 when Kenin had her chance to break back and she did so thanks to Muguruza's back to back double-faults. However, any signs of nerves on part of the French and Wimbledon winner went out of the window when she immediately broke Kenin and then held on to her serve with utmost ease to clinch the first set.
However, Kenin wasn't done and despite her inexperience, she wasn't about to be steamrolled by her senior opponent.
Also Read:
In fact, in the second set, the American came out all guns blazing.
The first three games went to serve before Kenin wrested control of the set with a break in the fourth. Down 15-30, Kenin forced Muguruza into an error before pulling off a neat winner to give herself a chance to go ahead. And she did just that to make it 3-1.
A solid three holds later, Muguruza needed to hold another to stay in the set but Kenin broke her yet again to win the set and a lot of confidence going into the decider.
So down 0-40 at 2-2.

Kenin hits 2 bh down the line winners
1 fh down the line
1 ace.
1 pass after defending well.

And throws the ball away almost looking annoyed ( becoming her signature of sorts)

— Somdev Devvarman (@SomdevD) February 1, 2020
The third set began in a tight manner with both players holding their first two respective serves with relative ease. However, in the fifth game, Kenin was 0-40 down on her serve and came back to win five points in a row to stay ahead in the set.
Little did Muguruza know she wouldn't win a single game after that as the Spaniard's serving fell away – she served another double-fault in the sixth game – to hand the American the match.