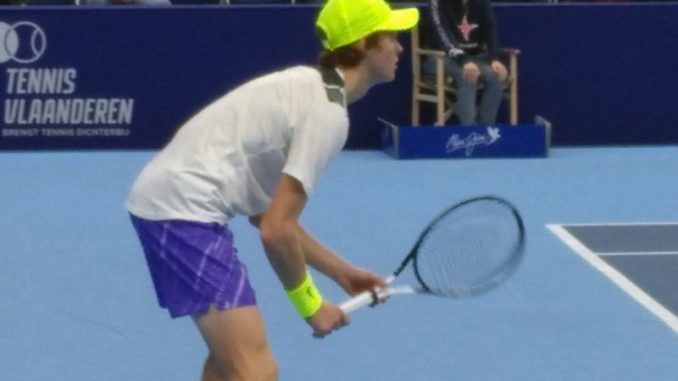 Jannik Sinner has been on the professional scene for just over a year, joining the ATP Tour in 2018, and has already impressed many. Is he the next, Next Gen star to watch out?
With so many young players making waves on the ATP scene, Sinner is the next in a long list of players who is quickly rising into a star of the future.
Established players such as Stefanos Tsitsipas, Danil Medvedev and Alexander Zverev are seen as the next wave of Grand Slam champions and the current bench mark for best young players, and Sinner is a player who certainly has the talent to put his name among that list.
While Sinner develops his game and gains valuable experience with every passing tournament, it seems like only a matter of time before he gets a maiden win on the ATP Tour.
The 18 year-old has already broken into the top 100, with a highest ranking of 68 currently, and in the process has become the youngest player to do so.
In 2019, the positive signs were for all to see, as Sinner made headlines when he won the Next Generation ATP Finals on home soil against Australian Alex De Minaur.
He boosts an impressive record on the ATP Challenger and ITF Futures scene, with seven final appearances and five wins. Sinner's first ATP Challenger Tour win in Bergamo, resulted in the Italian becoming the first player born after 2001 to reach a final.
Even more impressive is the amount of success in such a short period of time, given Sinner was a relatively late starter to the sport at seven years of age.
In the more recent ATP Rotterdam 500 tournament, we saw the best of Sinner when he upset world number five David Goffin in straight sets. While this was his first win over a top ten player, he did beat current world number nine Gael Monfils last year at the European Open.
Every year new players come through the ranks, with seemingly the potential to announce themselves as a future star, but can find expectations and the pressures that begin to mount difficult to manage.
This is perhaps one of the more exciting areas of the youngster's game, as we've already seen a taste of the coolness he possess, along with a unique ability to handle pressure on the bigger stage.
Sure, Sinner still has a lot to learn as every teenager on the world stage would, but signs already give us an indication of the player he could become.
Many players in the modern game possess a big back court game, but Sinner is extremely potent off both wings, something that not every player has as he can hit winners from anywhere on the court.
He has a very similar style to another young player in Zverev, someone he could be battling with a lot over the coming years. Sinner himself knows the work to becoming a great player in the future is still a fair way away after a tricky start to the 2019 season.
The Italian recently spoke about his tricky start to the season, which has yielded a few first round defeats, but believes the more practice he gets with other players will help his development in the long-term.
Another important step for Sinner to take will be adding consistency to his game, something young superstars of this game have also struggled with at times.
Although early into the 2020 season, players such as Medvedev and Tsitsipas have not hit the highs of last season for example. This will be a challenge Sinner faces as he goes through his progression on route to becoming a top player.
With guys like Canada's Felix Auger-Aliassime, Denis Shapovalov and Russia's Andrey Rublev looking to be a thorn in the side of Zverev, Tsitsipas and Medvedev. Sinner is the youngest of all these players, and while not talked about quite as much, the expectation on his shoulders is very high.
Sinner is in good hands, as he is coached by Riccardo Piatti who formally helped develop seventeen time Grand Slam champion Novak Djokovic, Ivan Ljubicic, Richard Gasquet and Milos Raonic, all of whom are former or current top ten players.
With individuals such as Andreas Seppi and the charismatic Fabio Fognini leading the way for Italian tennis over the years. Matteo Berrettini and now Sinner have given new hope for Italian fans going forward.