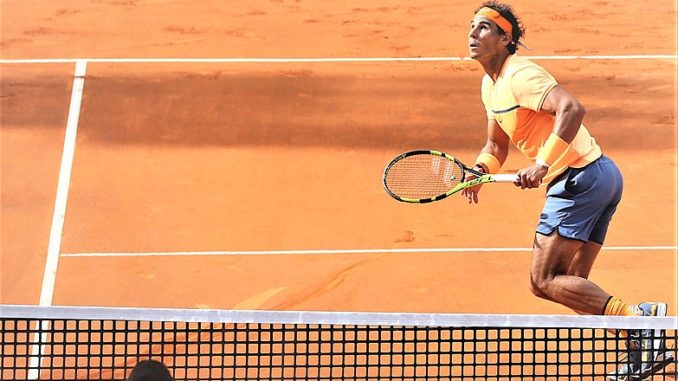 In this new regular feature, we will bring you a statistical-based analysis on a topic or a set of topics related to tennis each week. Today we are going to focus on Rafael Nadal and analysis what his record at the French Open mean to him.
Paris has a lot of different connotations for many people. Some consider it to be the city of love, others associate it with a magnificent western escape, and to some, the name brings back reminders of the kings of old who once called Paris home.
For Rafael Nadal, the name has all three semblances. He has a love affair with the city that would rival any local Parisian's adoration, and his dominance over it would be enough to rival any olden king's supremacy.
His win in Paris over Stefano Travaglia was his 96th win in the French open; his 26th win in a row in the tournament.
That statistic only pales in comparison to three other winning runs in the tournament: the legendary Björn Borg achieved 28 wins in a row between 1978 and 1981; Nadal's very own 2005-2009 run saw him achieve 31 wins in a row; and, in fitting fashion, only Nadal could set a record too high for him to better, achieving 39 wins in a row between 2010 and 2015 when he also won the French Open for 5 years straight.
When you compare his total number of wins in the French open to his closest competitors, Djokovic trails with 25 fewer wins, standing at a respectable 71 wins after his recent win; and Federer, who's missing from this year's French Open because of a recurring problem on his right knee, is third with 70 French Open wins.
Fitting that two of his greatest rivals suddenly become overshadowed when it comes to the French Open.
Nadal's Stats in Comparison to Other Grand Slam Competitors
Only two other players have a better record than Nadal in major tournaments. Jimmy Connors' 98 US Open wins is the record in US Open history, while Federer has 101 Wimbledon wins and 102 Australian Open wins, and remains the only player to have ever achieved 'centurion' status within a major tournament.
Record Match Wins in Grand Slam events
This is where Nadal enters.
If he's hoping to become the second-ever player to win 100 games in a major singles tournament, he'd surely want to do it within the shortest time possible.
Currently, as it stands, if he wins all his remaining matches in the tournament, win no. 100 would come in the final, and a gleaming silver Musketeers' trophy would accompany that win. In doing so, he would also match Federer's record of 20 Grand Slam titles; and would probably add more flames to their legendary rivalry.
Percentages Don't Lie
The term King of clay is often synonymous with Nadal's name, and it's rightfully so. He has a mastery of the surface and uses it deftly to his advantage; manipulating the clay court's slowing ball pace to aid in his forehand's topspin, and his defensive tenacity in tracking down all sorts of returns to his advantage is aided by the clay court's high physical demand.
And though statistics sometimes aren't the best representation of a player's ability, this time, the numbers tell a story of its own.
Out of Nadal's 98 games in the French Open, he's only ever lost twice. That's a 98% match-winning percentage, one that would be ludicrous to even think of in any sport, let alone tennis.
The only player who even comes close to that is Björn Borg with his 49-2 win record in the French Open, which translates to a 96% match-winning percentage.
But Nadal has played almost twice as many games as him, which makes that statistic even more impressive. And such figures elevate this statistic from lifeless numbers on a screen to a symbolic representation of something greater: Sheer Dominance.
Record Match winning percentages in Major Tournaments (minimum 20 wins)
Plus Nadal should still be very confident of achieving the 100-game winning mark at some point in his career, if not in this very French open. Unless something devastating happens, that should be one of the assurances that Tennis fans should be confident of eventually seeing.
For now, though, the road to 100 is paved in hallow red clay, with several bodies and rackets sewn into the ground, all covered in red dirt.
Standing in front of all the fallen bodies is an unsteady Sebastian Korda, shakily holding onto his racket, hoping to somehow defy the odds. If he wins, he makes history and makes Nadal have to wait for the 100 win record.
But if Nadal wins, the 100 win mark becomes more palpable, and the cup next to the end of the road—with his name engraved on it—gleams a little bit more. And with that, the ghosts of kings in Paris would scream in envy for dominance that they had once yearned for.