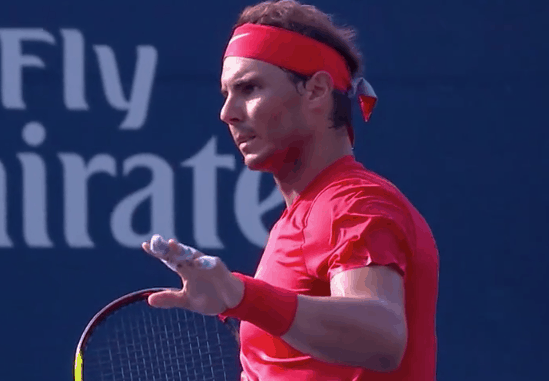 Any tennis final is often a grand affair, but come this Sunday, the French Open final between Rafael Nadal and Novak Djokovic seems like it eclipses the meaning of the word grand. Here's a statistical look at their amazing rivalry which has seen a plethora of excellent battles leading up to this one in the 2020 Roland Garros edition.
Get the Djokovic v Nadal French Open final preview, predictions & live streaming here
The two foes will once again battle it out for Grand Slam supremacy when they meet on Sunday in Court Philippe Chatrier, and unique elements such as Nadal's road to 100 French Open wins and Djokovic's desire to once again prove his worth against Nadal on Clay promise to elevate the final into a sanctified matchup.
The two are no strangers to each other.
In fact, this meeting will be the 56th time that they've played each other, more than any other pair in the Open Era, making it the most prolific rivalry of the tennis Open Era.
Out of their prior 55 meetings, Djokovic has the edge over Nadal, currently leading 29-26. Of those 55 meetings, 27 have been on hard courts, 24 have been on clay, and 4 have been on grass. The table below shows a further breakdown of the results of their matches on those surfaces.
Beginnings of the Rivalry
Their first-ever meeting was in the 2006 French Open in the quarterfinal round.
Nadal triumphed after Djokovic retired with an injury in the third set. But the foundations of a lifelong rivalry were set when Djokovic asserted that he understood what he needed to do to beat Nadal on clay, something that he's gone on to do 7 times in total, and once in the French Open (one of only two people to have ever accomplished such a feat).
The beginning of the rivalry was, however, often overshadowed by Nadal's rivalry with Roger Federer between 2006-2009, but the rivalry began getting heated in the following decade when the pair played in their first-ever Grand Slam final in the 2010 US Open.
Since then, their rivalry has grown and is now often considered to be one of the greatest rivalries in history by many players, coaches, and pundits; and rightfully so.
The first part of the rivalry was dominated by Nadal who led 16–7 from 2006 to 2010, while the second part was dominated by Djokovic, who led 19–7 from 2011 to 2016. From 2017 to the present day, they have gone an even 3-3.
Grand Slam Titles and Meetings
The two only trail Federer in total Grand Slam titles: Nadal has 19 to his name while Djokovic trails by two with 17. Roger Federer, in comparison, has 20 Grand Slam titles, the most in history. So a win here would pull either one of them closer to their other foe.
The pair have also met a total of 15 times in Grand Slam meetings.
Nadal currently has the edge with nine total wins to Djokovic's six; though a large number of Nadal's wins have been in the French Open while Djokovic's have been more evenly spread.
Apart from the French Open, the only other tournament that Nadal has a better record than Djokovic is in the US Open.
Of all of these Grand slam matches, eight have come in the final. They are tied 4-4 on that statistic as well, with Djokovic winning their most recent final meeting: the 2019 Australian Open.
And some of their final matchups, such as the 2012 Australian Open final, have produced classics; with that 5 hours 53-minute match being considered one of the greatest tennis matches of all time.
However, Nadal has never lost a French Open final to Djokovic. They've played two, both of which ended in Nadal's favor: a statistic that he'll be hoping will possibly tilt toward his favor on Sunday.
Djokovic can take heart from the fact that he won their last ever Roland Garros meeting, in the 2015 French Open quarterfinal, and finally achieved an accomplishment that he'd set out from their first-ever meeting in 2006.
That win took him all the way to the final, but he had to wait an additional year to finally get his hands on the French Open trophy, something he's done only once compared to Nadal's 12 French Open titles.
Other Finals Meetings
In total, they've met in 26 finals. Djokovic leads with a commanding 15-11 record, and has won three of their last five finals, beating Nadal in the Australian Open, Qatar Open, and China Open to achieve top honors in each of those competitions; all of those three wins coming on hard surfaces.
With regards to surfaces, Djokovic has won a total of 10 finals on hard courts, 4 on clay courts, and 1 on a grass court. Nadal has 7 final wins on clay courts, 3 on hard courts, and 1 on a grass court.
Possible Records on the Day
As is common with the pair, a win for either one could see them achieving some sort of record. The most obvious one is Rafael Nadal, who is gunning for a 100th win in a single major tournament.
That would make him only the second-ever player to earn the centurion status after Federer achieved similar records at Wimbledon and the Australian Open, with 101 and 102 wins respectively.
Additionally, he'll also match Federer's record of 20 Grand Slam titles. Plus, if he were to do this in straight sets, he'll have won the tournament without giving up a single set.
For Djokovic, his recent wins at Roland Garros saw him achieve the second most French Open wins, his 74 wins only trail Nadal's 99 win record and a win could see him move closer to that.
Additionally, it would be only the third time ever that Nadal has lost in Roland Garros, and he'd be the first person to defeat Nadal twice in the tournament.
All in all, the stage is set for another chapter of a classic rivalry.
The king of the hallowed red clay clashes with the tournament's top seed and current world no. 1. For the winner, victory would be more than a shiny piece of silverware.
For Nadal, it would be asserting dominance in his conquered territory, while for Djokovic it would be toppling the king from his assumed pedestal. Everything points towards a hopefully entertaining clash, one which will surely go a long way in cementing the legacy of this historic rivalry.