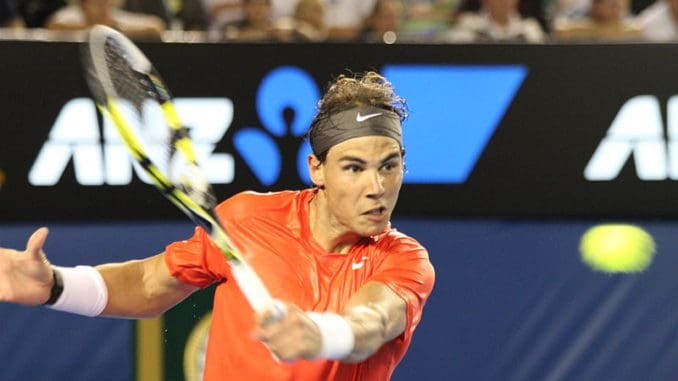 Juan Martin Del Potro was aided by a Rafael Nadal injury to make it to the final of a competition he had won in 2009. Del Potro was two sets up when Nadal retired from the match because of his knee issue.
Preview:
This year may be different. The Argentine is back to his best after several injury-plagued seasons, and, in disposing of John Isner in Tuesday's Quarter Final, proved he is in the sort of mood to win his favourite tournament for the second time.
Nadal, meanwhile, endured an epic battle with Austria's Dominic Thiem in a match that lasted nearly five hours, triumphing in a fifth set tie-break.
The question for both men is how much they will have recovered by Friday, and how much stamina do they have left. Del Potro's match against Isner may only have lasted 4 sets, but it was played in such extreme heat and humidity that officials suspended junior matches on the outside court for two hours.
The extreme heat policy meant that an enforced ten minute break was taken between the end of the third and start of the fourth sets, whilst the American claimed afterwards he had used 11 shirts, and sweated between 8 and 10 lbs in weight, during the course of the match.
Nadal meanwhile, although he played in the evening when it was theoretically cooler, still had to battle stifling humidity, and his match did not finish until after 2 am local time, which may be regarded as a bad omen for him.
No player, in the history of the US Open, with such a late finish,  has ever gone on to win their subsequent match.
Ally this with the two hard matches that Nadal played in the two previous rounds, against Karen Khacharov and Nikoloz Basilashvili, and doubts must be raised about how much he has left to give.
He is, however, the supreme competitor, and has proved his ability in the past on many occasions, to dig deep to win matches. Furthermore, having won 11 of his 16 matches against Del Potro, including their last three encounters, he has the competitive edge over his opponent.
It will be a tough match which could well go to 5 sets again, but it is hard to bet against the Spaniard making it through to back-to-back US Open Finals.
The match scheduling will be announced on Thursday.