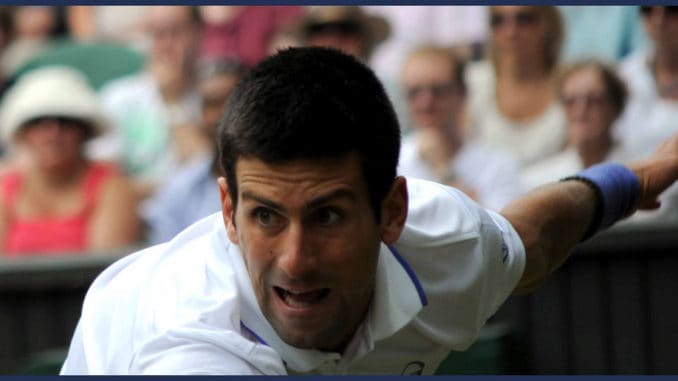 An erratic but confident Novak Djokovic will take on the in-form Frenchman Lucas Pouille in the 2019 Australian Open semi-final on Friday.
Watch & bet on Novak Djokovic v Lucas Pouille live with bet365 here* on Friday, January 25. The Djokovic v Pouille match will be played at 7 pm local time (9 am BST).
*Geo-restrictions apply & pre-funded account needed
Djokovic Yet To Hit Peak Form
World number one, and six time Australian Open winner, Novak Djokovic, continues his quest for a record seventh title in Melbourne. The Serb has not had the most convincing of tournaments, being challenged by Canadian Denis Shapavalov, and Russian Daniil Medvedev , losing a set to each, in his third and fourth round matches respectively. Djokovic had a short quarter final, against Japanese Kei Nishikori, who withdrew with a thigh injury, after the Serb was leading 6-1,4-1.
Although Djokovic has not yet hit peak form, and has had lapses in concentration, he has never looked in danger of not being in control of the match, in his previous round. One of the best players the tour has seen at the latter stages of a major, and with a record at Melbourne, better than any other, Djokovic knows only too well what it takes to go the distance from here. With unmatched athleticism, and the best return on the tour, Djokovic has worked on, and considerably improved his serve as well, notably his second serve.
After a difficult two years of injuries, indifferent form, and drop in rankings, Djokovic has made a strong comeback since Wimbledon 2018, winning Wimbledon and the US Open, alongside the ATP Masters 1000 in Cincinnati. He was also runner-up at the Paris Masters 1000, and the ATP Tour Finals, in London.
Can Pouille's Best Slam Performance Improve Further
Frenchman Lucas Pouille, arrived in Melbourne this year, at the back of five consecutive first round losses at the Australian Open. Confident seeking early round victories, were followed by impressive displays against Croat Borna Coric, and Canadian serving giant Milos Raonic. A third grand slam quarter final appearance against Milos Raonic, resulted favorably in a first ever major semi-final for Pouille.
Pouille impressed many in 2016 with quarter-final appearances at Wimbledon and the US Open, including beating Rafael Nadal. He was hailed as a future superstar, with an attacking, fluent playing style, with immense natural talent. Indifferent form and injuries thereafter did not bode well for Pouille. However, only 24 years-old of age, the Frenchman still has a lot of promise.
The Frenchman, who changed his coaching team in 2018, has since been coached by former women's grand slam winner Amelie Mauresmo. Mauresmo coached Andy Murray and assisted him to the Australian Open finals in 2015, and 2016.
Pouille's attacking game, spurred by a strong forehand, and net attack will need to be at its best to unsettle Djokovic.
Djokovic v Pouille Head to Head
The players have never met on the ATP circuit.
Novak Djokovic v Lucas Pouille Tips & Predictions
While Pouille is in some of the best form he has been, he will be up against an opponent in a very different league, to anything he has faced thus far.
Pouille has the confidence, and attacking play to make a match of it. Although Djokovic is not in the best of form, it should take none by surprise, if he gets there in the next two rounds. Expect Pouille to give it his all, and play with intent, but one cannot see him unsettling Djokovic. Expect Djokovic to win in straight sets, and get one step closes to his fifteenth major title.
You can watch & bet on Novak Djokovic v Lucas Pouille live with bet365 here on Friday, January 25.