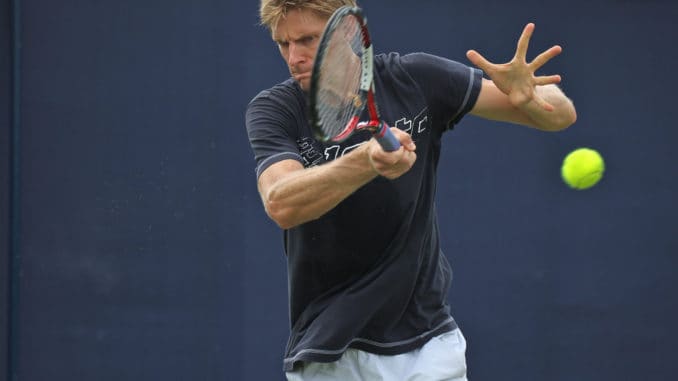 Like many sports, tennis has tremendous athletes that have yielded spectacular encounters and results. But what really stands out, is the different styles between players and how unusual skills sets have changed the game.
The last two decades have been dominated in large through exceptional players like Roger Federer, Novak Djokovic and Rafael Nadal, but while they have maintained long periods of excellence, all three have done so with different playing styles.
From Federer's poetic serving and graceful forehand, Djokovic's stunning return game and unbreakable backhand, and Nadal's all round power game and ability to never give up.
In recent seasons and even months, we have seen an influx of young talent with similar skill sets, some of who have based portions of their game after those mentioned above.
And while the next generation of stars is upon us, there remains a particular type of player that has pushed the sports most successful individuals to their limits. These are the taller, somewhat unpredictable, but consistently challenging players which include John Isner, Ivo Karlovic, Kevin Anderson, and Sam Querrey.
Except for Querrey, each of these players stand over 2 meters tall, with Karlovic the tallest player in the sports history.
For a long time their success has been credited to the huge serving prowess they have. Aces a plenty, a second serve that for some would be a first serve, the angles and bounce they can achieve.
These are some of the skills they are able to deliver with regularity, but it's a mistake to think this is the sole reason for their successful careers. Beating the likes of Djokovic, Federer, Nadal and many other top ten players along the way requires much more than a big serve.
All four players have had standout performances that have led to different levels of success. Querrey is arguably as the most talented in this group of players, as his game resembles the big serving ability of fellow American Isner, while a more athletic baseline game likened to that of Juan Martin Del Potro given similarities in size.
Also Read:
Querrey demonstrated this in back-to-back years when the American defeated Djokovic and Andy Murray at Wimbledon.
Both players were battling for the number one seed at the time, and playing at the peak of their powers. Querrey was largely in charge of the contest both times, and managed to contain the two men who are considered the best returners of their generation.
Querrey also holds finals victories over Murray and Nadal at the Los Angeles Open Series in 2010 and 2017 Mexico Open.
While Querrey has had exceptional results against the game's best players on a few more occasions than the others, it is his compatriot Isner who has been the most consistent out of these players.
Like Querrey, Isner has produced some stunning performances, but while they have not always seen the same winning success, he is one of the most feared players to encounter in a grand slam situation that ranks outside of the top ten currently.
Isner along with his consistent level of play has regularly been a perennial top twenty player in the world, and on a couple of occasions ranked inside the top ten.
In 2012, Isner produced what is still one of the better matches of his career when he captured his first victory over Djokovic. On home soil at the Indian Wells Masters 1000, Isner was unbreakable and stood up to monumental pressure from the current world number one.
The contest went to three sets, with Isner taking both the first and third in tie-breaks. With a player of Isner's capabilities, having a set develop into a tie-break situation is just another problem for any opponent of his. The 35 year-old boosts one of the better tie-break records of all time sitting second only to Federer in wins.
Isner also achieved something many of the greats including Federer and Murray for example have not, which is taking Nadal to the brink of defeat at Roland Garros. Djokovic and Robin Soderling remain the only players to beat the Spaniard in the French capital.
Aside from those wins and actually defeating the twelve time winner in Paris, pushing Nadal to five sets is nearly as rare, but Isner did so in 2011 which caught the Tennis world's attention.
While fans and pundits adore a thrilling five set encounter between athletes that are pushing their bodies to the limit and rallies lasting anywhere from twenty to forty shots with winners galore, that doesn't mean the big servers can't produce a match of that magnitude.
Isner is renowned for long lasting duels, in particular one of the better matches in Grand Slam history was with Frenchman Nicholas Mahut at Wimbledon.
The match is the longest to date which lasted a stunning three days, eleven hours and five minutes. Isner has not disappointing since, and even with his career on the final stretch, the American surely has yet more stunning performances to come.
Another giant of the game is a veteran of twenty professional seasons in Karlovic. The 41 year-old has not quite had the levels of success as the two Americans especially at the Grand Slam level, but he has made his reputation as a dangerous opponent over the shorter format Masters 1000 events.
While the first two matches between Karlovic and Djokovic were at an early stage of the Serbian's career, fact remains Karlovic has achieved something that only four others have, which does not include names we would associate with having such a record.
That is of course a winning head-to-head against the seventeen time Grand Slam champion, as Karlovic leads it by two victories to one.
The other four men to hold this record include, Nick Kygrios (2-0), Taro Daniel (1-0), Jiri Vesely (1-0) and Filip Krajinovic (1-0). That's not the only legend Karlovic has beaten in his twenty year career, as he conquered Federer at the 2008 Cincinnati event.
Finally we have Anderson who has risen to levels over the last three seasons that not many would have envisioned. It took the South African longer to establish himself as a main threat for top honors.
From 2010 until 2016, Anderson struggled to make any considerable noise on the Grand Slam scene, with only a handful of fourth round appearances to show for it.
However, Anderson is now considered one of the better players on tour after superb runs in 2017 and 2018 which saw him make the Wimbledon and US Open finals.
Those two seasons yielded a large amount of success for Anderson, which includes being ranked at a high of five in the world. While Isner, Karlovic and Querrey are thought of as having a more devastating serve, Anderson is without doubt the most consistent player from the back of the court.
While styles between these players are somewhat similar, they have all challenged the best on many occasions. Players with basketball heights, unique blends of ground court ability and a serve volley style that for many years was becoming a thing of the past remains a unique and difficult type of player to beat which these four have in abundance.