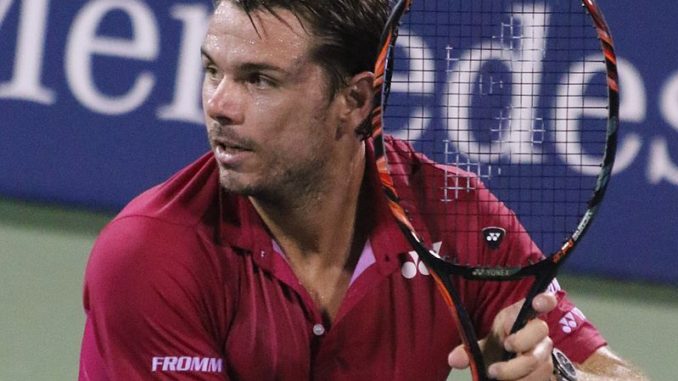 We have become accustomed to the usual names dominating the world of tennis in both the men's and women's game, but there remain players who took longer than many to discover their true ability and become a part of that illustrious group. Here's a few who took their own time to get going but in their own way, took the world by storm once they did.
With younger talent coming through the ranks at rapid rates and challenging the greats of the game, it puts a much larger focus on where the next talent is coming from as opposed to those who have been mainstays on tour without necessarily wowing us and expecting them to do so.
However, this list takes you through various players who were seen as good players before reaching their peak later in their career, and showing that it's not all about being the new kid on the block.
Stanislas Wawrinka
Perhaps the biggest and most accomplished on this list of players is the Swiss veteran. It was certainly hard to include Wawrinka onto this list due to the incredible results he has achieved in recent seasons.
Wawrinka has won three of the four major tournaments which includes the Australian Open in 2014, the French Open a year later and success at the 2016 US Open. His victories came against Rafael Nadal and Novak Djokovic on two occasions to show just how good he's been.
So while it might be a surprising inclusion for some, lets remember that Wawrinka didn't achieve a semi-final or final at a major until the age of twenty-eight. The former Davis Cup winner made his debut in 2004, and with Roger Federer dominating the sport, Wawrinka was very much in his compatriots shadow.
For many seasons Wawrinka struggled to produce the results we have become more accustomed to seeing, but still lacks the consistency that Federer has shown for sustained periods.
Before clinching his first title, the 35-year old was a perennial top ten player and top five player behind the above mentioned Nadal, Djokovic, Federer and Andy Murray. However not many thought he was a potential champion with those four currently in their prime.
But a breakthrough in 2013 with a run to the US open semi-final where he succumb to Djokovic after beating the defending champion Murray.
It started a run where Wawrinka was not just a threat, but became a Grand Slam winner and remains on his day one of the toughest players to beat. The last two seasons have been a disappointment in large, which brings into question the consistency of Wawrinka as he has failed to make it past the third round in eight consecutive Slam appearances.
2020 did begin well though for Wawrinka as he made it to the quarter-finals in what has been the only major so far this year. There have been ups and downs in his career, but Wawrinka is without doubt capable of winning again and remains one of the names we think of when discussing potential major winners.
Also Read:
Feliciano Lopez
Next on this list is Feliciano Lopez. The now 38-year-old has been on court for over two decades having began his career in 1997. Spain has often produced large amounts of top tier talents and the last twenty years has seen the top 100 players heavily represented by Spanish players.
Obviously Nadal has been the standout, but with players such as David Ferrer, who for a long time was the unquestioned fifth best player in the world, the ultra talented Fernando Verdasco, and former champions in Juan Carlos Ferrero and Carlos Moya, also comes the newer stars such as Roberto Bautista-Agut and Pablo Carrena Busto.
For many people Lopez was a steady player at best, and someone who can bring flair and style to the game without truly threatening the top players. Even as a doubles specialist it took Lopez a fairly significant amount of time to really hit his stride, which came during his partnership with Marc Lopez where they made two Grand Slam doubles appearances including victory at Roland Garros.
As a young player Lopez did reach a high of twelfth in the world, but really came consistent force over the last six-to-seven seasons. The Spaniard has not won or made any major runs at Grand Slams except for reaching the quarter-finals on four occasions, but it's the smaller tournaments where Lopez has been more impressive.
With several wins over top ten players, Lopez is certainly a player that will take advantage of the top players not being on top form.
Angelique Kerber
On the women's side of the game, Kerber resembles Wawrinka in certain ways and it took the German star nine years to make her first Grand Slam final. Since that time, there's no question how good Kerber has been and at times the best player on the planet.
But like Wawrinka, it was a steady start to her career, which has since blossomed since 2016. Winning the Australian Open that same year at the age of twenty-eight also resembles the same age as Wawrinka when making their name when it came to a consistent challenger.
Kerber has since won three majors and been ranked number one in the world. The now 32 year-old has also achieved greatness in other tournaments such as the Olympics, Tour finals, Fed Cup and Hopman Cup since 2014.
Kerber struggled in 2019 compared to the previous season and has consequently slipped outside the world's top ten, but much like the men's game, a new wave of female talent has come to the fore meaning the level of competition is as tough as it's ever been.
One of the early struggles for Kerber was the expectation placed on here, and with Germany in need of a superstar in both the men's and women's game, Kerber was essentially pushed in being the poster girl for German tennis.
But while coaching changes and disappointing Grand Slam runs occurred from time-to-time early in her career, Kerber has become the face of the sport in Germany due to her stunning results.
Flavia Pennetta
Flavia Pennetta was a fifteen year professional who had the ultimate send-off before retiring when she won her first ever Grand Slam at the US Open, in what was a tournament of shocks and surprises.
The Italian made six quarter-finals one semi-final and the above mention US Open final, but what was key to point out is the fact seven of these impressive runs all happened at Flushing Meadows.
While signs pointed to Pennetta becoming more of a threat after the 2013 campaign, which was her best year to date by far. It was easy to understand why it could have been a flash in the pan type of performance and therefore year.
However, it was something of a change in fortune for the veteran player, as it kick started two mightily impressive seasons starting at the age of 33. After claiming success at the Indian Wells Masters 1000 and a doubles Grand Slam final appearance. It was just the building block she needed on her way to victory in the 2015 US Open.
Pennetta became the first Italian to ever lift the US Open trophy, but she's not the first player to retire immediately after winning a major. Li Na left the game after claiming her second Grand Slam victory and first in Australia, while Marion Bartoli retired two months after winning Wimbledon in 2013.
Also Read:
Honorable Mentions
Roberta Vinci
Like her fellow Italian Pennetta, Vinci for much of her career was a very reliable and tough opponent, but struggled to make a name for herself regarding the top players on the tour. Instead, Vinci is much more renowned for her doubles career which has seen her claim multiple titles.
Vinci spent eleven years on tour before making a her first major run past the last sixteen round of a Grand Slam. And while it was a much more positive sign for Vinci, previous uninspiring results were the norm once more until the 2015 campaign, where she made the US Open final beating home favorite Serena Williams in the semi-final. Vinci is also the older player in the women's game to crack the top ten.
Kevin Anderson
The big serving South African has become a real danger to the games best in recent seasons something many never saw coming, which is highlighted by stunning runs to the US Open and Wimbledon finals in 2017 and 2018.
Similar to players like John Isner, Ivo Karlovic and to a certain degree Milos Raonic, Anderson was a tough player to face throughout his career and assumed to be ranked highly based on his big hitting nature of his game and powerful serve. But Anderson is much more than that as he's shown to be an athletic player with great finesse.
It took Anderson four years on the professional tour before claiming a first ATP title in 2011, but since turning thirty, he's become a more consistent challenger on all surfaces and thus eliminating any notion of being a one-dimensional player.