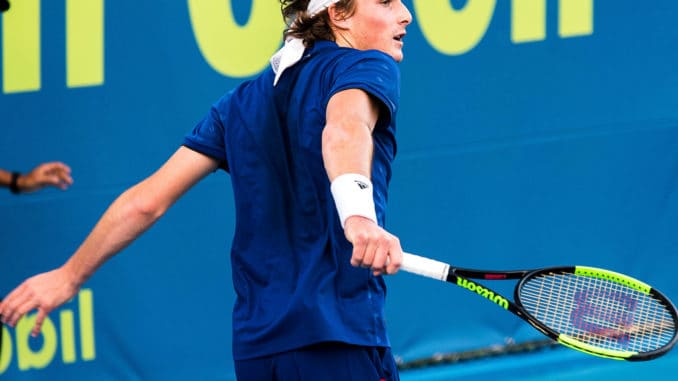 We are a few days off from the US Open but it's worth looking at the players to watch out during the 2018 US Open.
The competition can be expected to be dominated by the big-ticket players yet again with the likes of Roger Federer, Rafael Nadal, Novak Djokovic and Andy Murray expected to go the distance but as has been the case, at times, there have been surprise results. Not just in terms of the tournament but players going deep into the competition and announcing themselves.
Here's a list of our five Next-Gen tennis players to watch out this US Open:
Alexander Zverev:
ATP Ranking: 3
Tennis fans would rue the day players like Federer, Nadal and Djokovic hang up their racquets but it is bound to happen some time, sooner or later. And one of the players who is said to have shown enough potential to take up their places is Alexander Zverev.
The 21-year-old German has never even made it to the semi-final of a Grand Slam in his career but he's just 21 and showed enough glimpses of what he's capable of earlier this year at the French Open. It was his first ever quarter-final at Roland-Garros before he went down to Dominic Thiem in the last-eight encounter.
Zverev has himself admitted his issues at Grand Slam competitions could be more mental than physical but those are issues he would expect he can overcome and go all the way at this US Open.
He is coming off a title at the Washington Open and was a winner at the Rogers Cup last year, which should hold him in a good stead on the hard court surfaces at the US Open as well.
Interestingly, while Zverev has won three Masters titles in his career, he's also lost to Hyeon Chung and Dominic Thiem at the Grand Slams he's played this year – those are our next two names in the list of players to watch out.
Dominic Thiem:
ATP Ranking: 8
Thiem has been knocking on the doors having climbed to his best ranking of number four late last year. That was thanks to his performance in the first half of 2017 when he entered his first ever Masters final at Madrid, and while he lost that match to Nadal, it was evident he loved his tennis on clay.
Earlier this year, he gave another such glimpse by making it to the final at the French Open where he lost to Nadal yet again but it is evident he has qualities to trouble some of the best in the world.
Now, while Thiem lost in the first round at Wimbledon and his performance on outdoor hard-court surfaces haven't been as good as those on clay – he is 9-4 on hard court surfaces this year – this is also a time he tries and develops his game on that surface.
Also it should help that Thiem has a 4-2 win-loss record against Zverev, having won of those matches on indoor hard court at Rotterdam last year.
US Open Live Streaming | US Open Tips | US Open Tickets | Premium Tennis Tips
Hyeon Chung:
ATP Ranking: 23
Chung is the best South Korean player and ranked 23rd in the world, but more vitally, showed his mettle in two such ways that make me believe, he could be one of those to watch out.
First, Chung announced himself to the world by winning the Next Gen Finals, a competition that had the likes of Andrey Rublev, Karen Khachanov and Denis Shapolov, all of whom are players to watch out in their own right. He beat Rublev in the final to lift the title.
The other factor that makes him a player from the US Open is the way he's played on hard-court surfaces including what some might call a breakthrough performance at the Australian Open earlier this year. On his way to making the semi-final at the Australian Open, Chung also defeated Alexander Zverev in the third round and then sent the 14th seeded and former champion Novak Djokovic packing in round four.
His issue however, would be fitness, having missed two months of tennis in 2018 because of an ankle problem. After missing out on the French Open and Wimbledon and withdrawing from his match in the Rogers Cup, he might not even play if he doesn't recover in time for the competition.
Karen Khachanov:
ATP Ranking: 38
Another youngster, just 22 years of age and one who will go into the US Open with a lot of confidence on account of his good showing at the Rogers Cup. Karen Khachanov is currently ranked 38th on the ATP Rankings but there have been signs he could be a player to watch out this US Open.
Khachanov needed six Grand Slam qualifiers before he qualified for his first ever major but since then his ascent in the world rankings has allowed him to make it through to every such competition. More vitally, he has made the fourth round at both, Wimbledon and French Open this year and it needed a tie-breaker for Nadal to beat him in the Rogers Cup semi-final.
Will we see Khachanov take that step up now at the US Open where he has played twice before hasn't made it past the second round? Good chances of that happening.
Denis Shapovalov:
ATP Ranking: 26
19-year-old Shapovalov is the youngest player in the top 100 at the moment and he is expected to enter the US Open as a seeded player on account of his world ranking of 26. Having won the junior Wimbledon as recently as in 2016, he went on to make it to the fourth round of the US Open last year and has consistently entered round two at all the majors this year.
While there have been a few controversies around the behaviour of Shapovalov in the past, including at the Davis Cup last year and recently Rogers Cup, there is no doubting the talent of the Canadian.
With a semi-final at the 2017 Rogers Cup and a similar progress at the Madrid Open earlier this season, Shapovalov also proved he's not a one-trick pony – performances on both hard court and clay make him stand out as one of the players who could surprise a few and even go the distance if the US Open draw is kind.
Other Notable Mentions:
Stefanos Tsitsipas: Made the final of the Rogers Cup against all odds as he beat Novak Djokovic, Alexander Zverev and Kevin Anderson in three sets apiece after having registered a straight-set win over Dominic Thiem earlier.