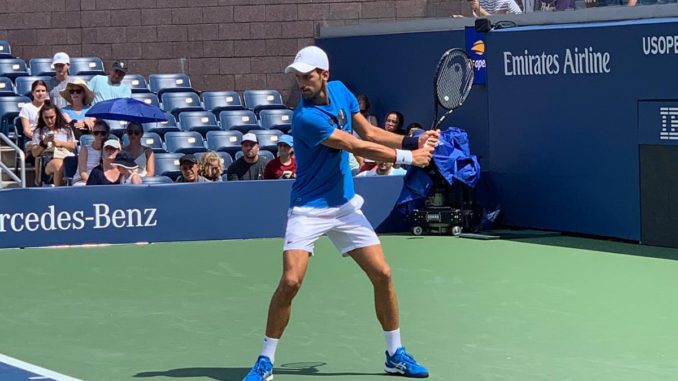 Nine million humans have been infected and almost half a million are dead from a disease for which we have neither a vaccine nor cure. The entire world has been on lockdown for months.
Designer masks have replaced the omnipresent Gucci bag, with no stores to visit but virtual. Social distancing has evened out the divides between rich and poor, white and black, young and old.
The prospect of what could eventually be the worst recession in the history of mankind, looms large on the horizon.
In this scenario, elite sports has been furthest from the minds of governments and people fighting for their very survival from a disease that knows no national boundaries or immunity barriers.
Slowly, some sport has restarted behind closed doors, with 'television only' spectators and strict protocols in place. Even with that however, infections have made their way slyly through preventive measures, as they are wont to do.
In the midst of this arrived Novak Djokovic with his Adria Tour, a series of tournaments where players would not maintain social distancing, fans would fill the stands as they did before, ball boys and girls would be in attendance.
Some fans and players, starved of sport, welcomed it, the vast majority questioned the need to rush 'tennis as usual' back with a pandemic sweeping through the world.
Patrick McEnroe advised Dojokovic:
"You've got to be aware of who you are and leading by example."
He added that it would be 'hard to imagine' another top player, like Rafael Nadal, Roger Federer or Serena Williams, holding a similar tour.
Also Read:
Djokovic, having convinced some of the best players in the world to go along with this show of defiance – Dominic Thiem, Alexander Zverev, Grigor Dimitrov and Borna Coric among them, hit back at the critics:
"We've had better numbers compared to some other countries. Of course, lives have been lost and that's horrible to see, in the region and worldwide. But life goes on."
At some level, it seemed to have descended into a classic face off between the less impacted Central and Eastern Europe bloc versus an infected West. Serbia and Croatia had undoubtedly been relatively lightly impacted, but as The Guardian adroitly pointed out, 'many of the people invited to the celebrations had arrived from less fortunate places.'
The show kicked off at Belgrade in front of 4000 ecstatic fans. By the time it arrived at Zadar in Croatia a week later, it had turned into a full blown party. And then, just before the finals, the inevitable happened.
As the lockdown rusted players had shed their excess hair, striped pajama bottoms and the annoying omnipresence of family members in unfamiliar close proximity, they had also shaken away their infection fears on court and off it.
The on-court rebels thus far seen hugging each other and linking arms, were spotted on social media, indulging in off-court revel at a nightclub. Fate was being sorely tempted.
Last Saturday, the pandemic quietly claimed its first victim.
A contrite Gregor Dimitrov went on Twitter to announce that he had tested COVID positive and added:
"I am so sorry for any harm I might have caused."
A second followed a day later when Borna Coric came out with his own test results and the accompanying mea culpa echoing Dimitrov's exact words.
Victor Troicki, a Serbian player, became the third participant to confirm positive results. Christian Groh, Dimitrov's coach, and Marco Panichi, Djokovic's fitness coach, followed suit.
Today, Novak Djokovic, the World's No. 1 player tested positive himself, putting the world of tennis into a tizzy and the US Open into possible jeopardy.
Dominic Thiem and Alexander Zverev have confirmed they tested negative, the latter issuing a Twitter apology nevertheless:
"I deeply apologize to anyone that I have potentially put at risk by playing this tour."
The recriminations have been swift even outside the realm of the usual social media vultures ceaselessly seeking victims to criticize.
'Nearly Headless' Nick Kyrgios was first off the blocks, as he almost always is when there is a juicy social media byte to hand out. But this time he would be fully justified.
'Boneheaded decision,' he started off about Djokovic, before continuing the inevitable tirade.
Djokovic's friend Andy Murray was more diplomatic (which frankly doesn't take much when you compare yourself with Kyrgios) but equally scathing:
"When you are going through a time like this, it's important any of the top athletes around the world should be showing that we are taking this extremely seriously, knowing that we are using social distancing measures and whatever it is."
Bruno Soares, a member of the ATP Players Council has not minced words:
"I sum it up as a horror show. Enormous irresponsibility and huge immaturity. They were totally careless, and it's difficult for me to find the words."
There is indeed a good reason for this angst.
Sport is important but it's not a matter of life and death, so making it so is idiocy at its worst. Yes, livelihoods and careers are being impacted by this pandemic.
But it's not the first time sports has been brought to a standstill by events greater than it.
For a total of eleven years in the first half of the last century, two devastating World Wars destroyed millions of lives. Sports took a backseat but came roaring back to ever greater heights.
Wars and pandemics are not new to the world, and however we delude ourselves, they will always be a part of human society.
And every single time, sports will have to take a break before it's next revival. Inexperience and youth can blind perspectives, but the voices of reason must prevail. Age has many downsides, but perspective is a benefit that it undoubtedly affords.
Every person and group who is in a rush to get sports back before the world at large is ready to embrace it, must consider the consequences and the weight of responsibility that rests on their shoulders.
As Novak Djokovic has just discovered, it can sometimes be a heavy cross to bear.